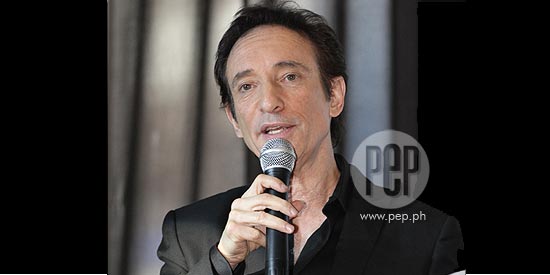 ---
David Pomeranz brings back old songs at The Filinvest Tent this coming March 9.
David has been a frequent visitor here in our country but he never fails to surprise his Filipino fans with something new.
ON WHY HE LOVES THE PHILIPPINES. The singer shares why he loves coming back to the Philippines.
"I think the Filipinos and I share and love the similar music, we are all fans of the same kind of music.
"I love emotional music, I love big melodies and I noticed that Filipino friends also love it."
"I think we are all fans of the same kind of musical experience," he stressed.
The singer also added, "And when I come back here the Filipinos are uniquely dear.
"Sometimes I say that to them, to you and I wonder sometimes if you understand how dear you are."
He explains, "Because I do travel around the world and people are nice all over the world there are lovely people sometimes not so lovely people, that's planet earth.
"But when I come here [Philippines] there's a genuine sense of true warmth.
"It's real, it's not fake it's very genuine.
"That's why my wife and I look forward to being here.
"It's a very touching experience to be in the Philippines. "
DAVID FEELS AT HOME. What does he do when he visits the Philippines?
"When I come here I usually see the venue, the hotel, driving to the TV [stations] back to the hotel.
"This time I've been here for two months and I have three more weeks to go.
"And I've had the chance to really see the city and breathe with people much more than I have before and now I feel more at home."
THE SHOW. David has been in the country for a number of times already but what can his fans expect to his upcoming show this March?
ADVERTISEMENT - CONTINUE READING BELOW
The singer answered, "Our show will serve love songs and some of the things that everyone knows.
"I'll be singing new songs.
"I will sing songs from my album You're the Inspiration which just came out."
David revealed, "And some other surprises some fun things I want to try out that I haven't done in a while.
"All in all it will be a lot of fun."
Will he be singing Tagalog songs this time?
The singer laughed and answered, "You know I just know one and it's a Christmas song, so that's not gonna work.
"You know what, maybe?
"The answer will usually be, yes of course. But I don't want to mess it up.
"But now that you said that, let me look at that. But I'd like to."
He added, "'Pasko na Sinta ko,' I can do that but I can't do that all year round."
FILIPINO ARTISTS. David admitted that he looks forward to making an album with some of his favorite Filipino singers.
He narrated, "There's so many wonderful singers here and I have thought of doing a duet and album with some of the singers here.
"I would love to do that.

"I have sung with many of them here and in the States and other places."
David started naming his choices, "Oh goodness! Zsa Zsa Padilla is an interesting character."
He explained, "Zsa Zsa has a voice that's very unlike any voice I've heard and I love her voice and I told her so that I can hear her sing 24-hours a day!
"I can just listen to that voice and I don't know why? I couldn't tell you why.
"But Zsa Zsa does that to me."


He continued, "I've sung with Lea Salonga and I adore her.
ADVERTISEMENT - CONTINUE READING BELOW
"Let me mention people that I adore."
He enumerated, "I've sung with Sharon Cuneta, Pops Fernandez, Lani Misalucha, Sitti, Sarah Geronimo just recently.
"I've sung with Regine Velasquez in America, Joey Albert who has become a very dear friend.
"So many singers, Vernie Varga…
"She just knocked me cold at the standard.
"I think what's interesting to me about Filipino singers and I include the male singers too, like Martin Nievera and Gary Valenciano there is a standard that is…"
He stressed, "They say it's world class but it is condescending to say that 'these are the world class performers,' no, no, no!
"These are intergalactic-number-one-oh-my-god performers… period!
"There are so many great artists in this country than I've seen elsewhere.
"There are numbers of them here [Philippines] and quality.
"And when I perform here, the audience sings with me in tune and that is rare.
So what are his plans for 2013?
The singer shares, "I have lots of plans and projects coming up.
"Musical theater, I have written a lot and I am still working on several pieces."
He admitted, "I am writing more pop songs now.
"I have put it away for the past three years and did some musicals in London and Broadway which are all open now.
"But this time I have pop song ideas so I am putting all that back in now."
"I have lots of concerts," David revealed.
Catch David Pomeranz as he brings back old songs and introduces new songs on March 9, at The Filinvest Tent, Alabang.
Tickets are available at Ticketworld for P3862.50 (VIP), P3347.50, and P2832.50 for dinner and show. Tickets are P875.50 for show only. Please call their hotline at Tel. No. 891-9999.