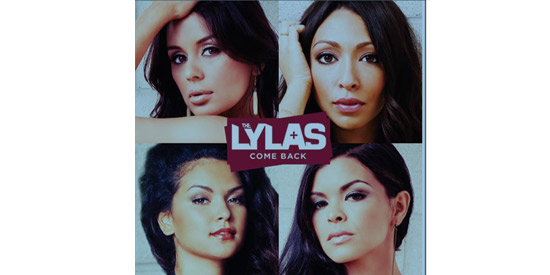 ---
Now, it's the sisters' time to shine.
After having had his share of the musical spotlight over the past years, award-winning singer/composer/producer Bruno Mars proudly applauds from the sidelines as he watches his four lovely sisters – who call themselves The Lylas – take their turn at conquering the music world with the release of their debut single "Come Back."
For the talented half-Filipino, half-Puerto Rican/American siblings, it's a fitting throwback that brings nostalgic memories of their music-filled childhood years.
Imagine growing up in a household where music echoes 24/7, where the air fills with the sound of lush vocal harmonies even before the crack of dawn.
Under the watchful eyes of their uncles – seasoned band musicians all – a motley group of kids get a taste of what it's like to nurture musical talent.
The kids grew up with a smorgasbord of styles ranging from nostalgic Motown and RnB, foot-stomping rock 'n roll, heart-wrenching soul, straight-up Top 40 pop and maybe even a smattering of jazz and glam rock.
That's the kind of atmosphere that served as the catalyst for the success of Peter Hernandez – better known in the global music scene as Bruno Mars.
With his anointment as a Grammy award-winning, certified hit-maker and concert livewire, Bruno has indeed come a long way since he first did his Elvis impersonation at a family gathering at age 5.
Aside from being blessed with the same musical DNA, the sisters – Tiara, Tahiti, Presley and Jaime Kailani – are also gorgeous stunners who could very well pass off as cover girls or ramp models.
These days, however, the four sisters of Bruno Mars are deadset on pushing their latest single "Come Back" to the top of the charts as well as creating strong social media presence. Calling themselves The Lylas, which stands for Love You Like A Sister, the ladies have landed an eight-part, hour-long show to document the recording process for their first album.
ADVERTISEMENT - CONTINUE READING BELOW
Slated for airing over women's network WE tv (www.wetv.com), the documentary series will chart the sisters' eventful sojourn from Hawaii to Los Angeles – where they are currently staying and working together on their debut album.
"'The Lylas are fierce, independent women, leaving their home – and in some cases their relationships and kids – for a chance at pursuing their love of music," said Lauren Gellert, WE tv's SVP of production & development. "Their story is one filled with all of the drama and chaos that comes from making a major life change, with the added spice of doing it alongside your sisters."
The Lylas just released their first single – "Come Back" – and corresponding music video. The single is available for downloading on iTunes; the video is available on YouTube.
They are also finalizing plans to go to Manila within the year to promote their music. The Lylas are being co-managed by Manila-based talent manager/concert promoter Arnold Vegafria, whose management outfit ALV Talent Circuit is representing the group's bookings in the Asian region.