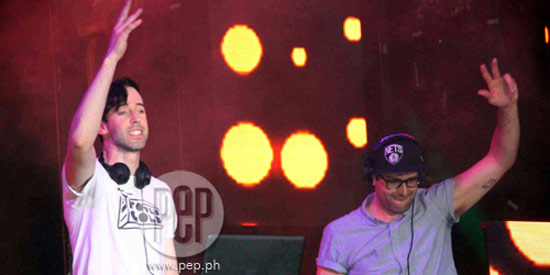 ---
With barely any time to rest or recover from jet lag, Cobra Starship briefly met up with select members of the press in Cabana Club, Resorts World Manila. They arrived in the Philippines a few hours before their performance for Close-Up Summer Solstice 2013.

Ryland Blackinton and Alex Suarez were willing to grant short pocket interviews and here is what we got to learn about the duo representing Cobra Starship for this music festival.

This is their third time in the country and Ryland says, "It's been good everytime we've been here. Honestly, it's been really great everytime we come here." Cobra Starship hit it big with mainstream music lovers when they released "Good Girls Go Bad" featuring Leighton Meester of Gossip Girl fame. The sassy, party pop band is also the band behind "You Make Me Feel," "Hot Mess," "Snakes on a Plane (Bring It)" and more.

What's different this time around is the absence of Gabe Saporta, Nate Novarro and Victoria Asher. Alex explains, "Unfortunately they couldn't make it, so Gabe said, why don't you guys do it and check it out..."

When asked what they would do without Gabe and the other two around, the boys promised they would instead DJ and do remixes of their own music during their part of the 12-hour music fest, "to keep the crowd moving during some other songs with songs that we like also," Alex continues. They certainly did do that and the party crowd responded by dancing along and raising their arms in the air.

Ryland says that they "are honored to open for Afrojack, playing a high-energy set, and we played with Dev also once before so that's gonna be fun and very hot."

During their performance, Cobra Starship included remixes along with their original songs and though they lacked the other three members, the two boys kept the crowd going and engaged for the hour they were on. Alex kept true on his promise to interact with the crowd and have lots of fun.

Cobra Starship is also known for answer-songs like "I Kissed A Boy," their parody of Katy Perry's "I Kissed A Girl" and Hollaback Boy, their answer to Gwen Stefani's "Hollaback Girl," among others.
ADVERTISEMENT - CONTINUE READING BELOW
Who has been their favorite artist to parody? Ryland smiles widely and shares, "I think we are all Katy Perry fans, I am still a fan of hers, coz I still think 'Teenage Dream' is one of the greatest pop songs ever written..."

Alex pauses for a while, "Uhm, yeah, I'd have to agree [with Ryland], definitely big KP fans, but I'm surprised Gabe never did a Justin Timberlake parody." Well, when the boys get back to the United States, perhaps they can work on that.

They have worked or made music with talented musicians over the years. When asked to name some of their favorites, Ryland admits, "We started working with this producer named Oliver Goldstein, and he has a group called Oliver and they are really, really good, some of the best producers we have ever worked with." Oliver released their EP via Fools Gold Records.

Ryland continues that "We worked with Kara DioGuardi a couple of times, she's great, and Leighton Meester, and Sabi." Kara is an American singer-songwriter, record producer, composer and TV personality who briefly served as American Idol judge and is responsible for signing acts like Jason Derülo and Iyaz to Warner Bros. Records.

And, of course, who can forget Cobra Starship's collaboration with Leighton Meester on their song "Good Girls Go Bad" because this paved the way for Cobra Starship to go mainstream. Their song "You Make Me Feel" featuring singer-rapper Sabi on guest vocals, has appeared on shows such as ANTM All Stars, Big Brother and The Vampire Diaries.

Ryland reflects that with all the mainstream success, this don't-take-yourself-so-seriously-band has realized, "We are a band that has been very fortunate to collaborate with so many other great artists, doing different kinds of stuff."

Alex chimes in agreement but adds that his favorites include a little something else too, "We've done a lot of songs that have features on them [featuring another artist] but a lot of the time when we go on television and perform them with other singers, like when we got to do the Latin American Music Awards with Paulina Rubio, that was really cool and when we did Conan O' Brien with Estelle, that was really fun."


FILIPINO FOOD and MUSIC. Ryland says "I want to try the duck egg thing, I have never tried it," referring to the delicacy balut.

Alex says "since I have a lot of dietary restrictions because I have food allergies, I'm vegetarian, so I'll try anything that I can get or see, as long as it won't kill me."

Do they know any Filipino musicians? Alex smiles sheepily and says, "No, but we heard that there is a famous actor named Chris Villanueva and it just so happens that our tour manager's name is Chris Villanueva and he's Filipino..."

Ryland admits, "I don't know any music from here, I just know Manny Pacquiao, thrilla from Manila..." he says with a smile.

Cobra Starship is currently in the recording studio working on their new album, as attested by frontman Gabe Saporta through Twitter.
ADVERTISEMENT - CONTINUE READING BELOW