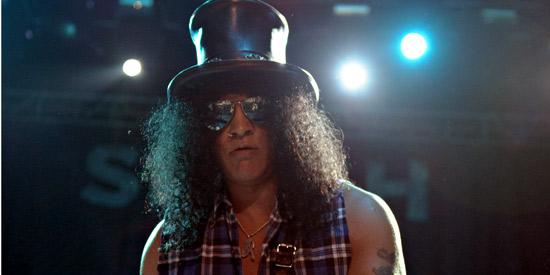 ---
For the first time in the history of Philippine music, former Guns N' Roses lead guitarist Slash performed in Manila as part of the Apocalyptic Love Tour.

Filipinos gathered at the Smart Araneta Coliseum last May 4 were treated to electrifying performances of the living legend who came to the Philippines with Myles Kennedy and The Conspirators.
General Luna, an all-girl Filipino rock band opened the concert, with Nicole Asensio on vocals, Caren Mangaran on lead guitar, Audry Dionisio on rhythm guitar, Alex Montemayor on bass guitar, and Bea Lao on drums. The band played a couple of songs including "Sister" and "Red Heaven."
The one-night-only Slash concert featured frontman Myles Kennedy on vocals, Brent Fritz on drums, Todd Kerns on bass, and Frank Sidoris on rhythm. The band opened with "Halo " and "Mean Bone."
Addressing the sweat-dripping, head-banging, body-slamming audience, Myles Kennedy confessed that this concert is the result of a long journey for them to visit the Philippines. "You are worth the wait" he said, eliciting cheers from the crowd.
The two-hour concert, with very few spiels, put the Big Dome in a rock n' roll moshing frenzy. Kerns' signature hair whip made the fans, especially the ladies, go wild but soon mellowed down with "Gotten" and "Starlight."
The crowd went into a trance as they sang along to one of GNR's most celebrated song from the album Appetite of Destruction, the monster hit "Sweet Child of Mine."
Kennedy kept on saying, "You guys are awesome!" and "What a crowd!" in between sets and before launching a 4-octave singing spree.

Slash introduced his bandmate by saying, "Since it's our first time in Manila, let me introduce, Myles F*cking Kennedy!" The crowd reacted with wild cheers.
ADVERTISEMENT - CONTINUE READING BELOW
Other songs from their album Apocalyptic Love include: "Standing in the Sun," "You're a Lie," "Back from Cali," "Not for Me," "Bad Rain," and "Anastasia."
The crowd was also able enjoy their renditions of "Nothing to Say," "Dr. Alibi," "Night Train," "No More Heroes," "Slither," "Welcome to the Jungle," and "November Rain."
Before their encore, Slash also introduced his bandmates Todd Kerns, Brent Fritz, and Frank Sidoris.
A few lucky Slash enthusiasts were fortunate enough to catch the guitar picks (containing the band's American eagle insignia and names) that were thrown away by Kerns, Sidoris, Kennedy, and Slash.
Spotted at the concert were celebrities Sid Lucero, Bubbles Paraiso, Mark Abaya, and Arnel Pineda, as well as members of local bands.
Towards the end of their encore song "Paradise City," confetti fell all over the crowd and the band took the center stage for one final bow, aptly closing one of the most legendary concerts in Pinoy rock history.