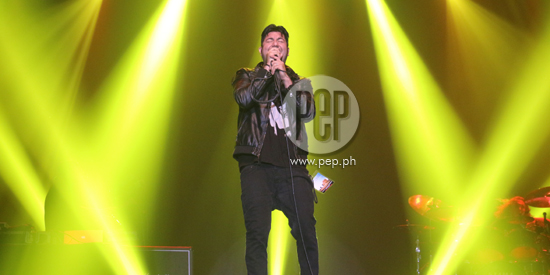 ---
The rock vibe and a sense of nostalgia were palpable at the World Trade Center in Pasay City, on Sunday night, May 26, 2013, when award-winning band Deftones performed on stage to promote their seventh album,
Koi No Yokan.
It was the second time that the alternative metal band visited the Philippines— the first was in 2011 to promote their sixth album Diamond Eyes.
The recent concert, organized by Splintr.com, was attended by celebrities and other artists, including actor and Kjwan vocalist Marc Abaya, vocalist Franco Reyes, Greyhoundz vocalist Reg Rubio, and actor Alex Medina.
To appease the restless, excited crowd, female-fronted rock band Philia opened the concert at 8:00 p.m., with their front woman Mona Muñoz jumping up and down the stage, and scream-singing the audience to wide-awakeness.
The second front act was no less than Filipino rap metal band Queso, which opened with the song "Tiamat" and closed with "Mottaka."
Finally, at 9:00 p.m., Deftones performed their first single for the night, "Rocket Skates," to the delight of the headbanging, dark-shirt-wearing, beer-chugging audience, who had been sporadically chanting the band's name for an hour.
Deftones is composed of lead vocals and guitarist Chino Moreno, lead guitarist Stephen Carpenter, keyboardist and turntablist Frank Delgado, bassist Sergio Vega, and drummer Abe Cunningham.
The crowd's energy rose exponentially from first number to finale, but it was nothing compared to steroidal act bursting from the band members, with Chino getting off the stage and going through the throng of passionate fans as he sang "Around the Fur."
ADVERTISEMENT - CONTINUE READING BELOW
The band from Sacramento, California sang five songs from Koi No Yokan: "Rosemary," "Entombed," "Poltergeist," "Tempest," and "Swerve City."
They also presented songs from their old albums, including, "Be Quiet and Drive (Far Away)," "My Own Summer (Shove It)," and "Lhabia," from their second album Around the Fur; and "Knife Party," "Feiticeira," and "Elite," from their third album White Pony.
The serving was a sweet mixture of hardcore metal melody and that of Chino's ethereal, seductive vocals.
All in all, they sang 20 songs, plus four more for the encore— right after the lights turned off and the crowd yelled a chorus of, "More, more, more!"
A poignant, rare moment of silence engulfed the venue when Chino sang the song "Riveire," and dedicated it to their former bassist Chi Cheng. In 2008, Chi was involved in a car accident that left him in a coma, which eventually led to his death in April of 2013.
At 11:00 p.m. Chino thanked the crowd and expressed his love for the Philippines, before he sang the last song for the night, "7 Words," which are not enough words to describe how brilliant the band still is after a two-decade-long career.