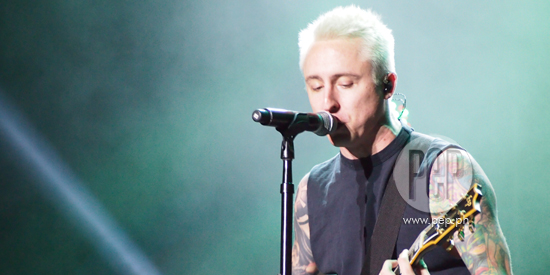 ---

Filipinos braved the rains for Circuit Fest: Music & Skate concert held at the Globe Circuit Event Grouds, Makati City last Saturday, May 25, 2013.
Nine international acts—namely A+ Dropouts, Megan Nicole, This Century, Downtown Fiction, Before You Exit, We Are The In Crowd, Allstar Weekend, Mayday Parade and Yellowcard—performed their hits for hundreds of their Filipino fans.
The audience was mainly composed of young and vibrant concertgoers. Some people were even seen laying mats on the ground to relax and wait for the bands to start playing.
Celebrities spotted at the concert were Star Magic talents Michelle Vito, Igi boy Flores, sisters Jane and Noemi Oineza; model-actress Jinri Park; singer-actress Roxanne Barcelo; and Save Me Hollywood's lead vocalist Julz Savard.
Glee's resident rock star Mark Salling hosted the concert. During the concert, Mark shared that he "loves" coming back to the country and told his Filipino fans "Mahal ko kayo!"
Mark Salling (right) and Willy Hawk (left) had a short chat after Downtown Fiction's performance at the Circuit Fest: Music & Skate concert last May 25, 2013.
Professional skateboarders including our very own Willy Santos and Riley Hawk, son of Tony Hawk, left the audience in awe as they did jaw-dropping tricks made even more dangerous because of the slippery skateboard ramp. Mark Salling asked Willy Hawk to describe the qualities he is looking for in a girl. The pro-skateboarder answered, "someone who is funny and I can hang out with."
Teenage punk rock group A+ Dropouts, led by 15-year-old Fil-Am Cheska Zaide, opened the concert. The group performed some of their original songs including "Boy Games," "Someone New" and "On Your Own." Fans cheered as the group performed their cover of Ed Sheeran's "The A Team."
ADVERTISEMENT - CONTINUE READING BELOW
YouTube sensation Megan Nicole was the second to perform. Megan sang some of her best covers including Nicki Minaj's "Starships," The Wanted's "Glad you Came," and Taylor Swift's "We Are Never Getting Back Together." Megan also performed her newest original song "Earthquake."
Pop-punk band This Century was the third to perform for the music festival. The American band from Phoenix, Arizona performed their original tracks "Sound Of Fire," "Skeletons," "Everywhere, Everything," and "Tip Toe."
American pop-rock band Downtown Fiction performed shortly after This Century. Rain started to fall as the group performed their songs including "I Just Wanna Run," "Alibi," "Wake Up," "She Knows," and "Best I Never Had." After performing a few songs, lead vocalist Cameron Leahy screamed "Manila, you're so hot! I'm getting all sweaty now," as he took off his blazer.

Downtown Fiction (top) and Allstar Weekend (bottom) performed at the Circuit Fest: Music & Skate concert last May 25, 2013.
Fans went crazy as the teenage pop-rock band Before You Exit entered the stage. The group performed covers of the songs "When I Was Your Man" by Bruno Mars, "Some Nights" by Fun and "Mmmbop" by the Hansons. After their set, lead vocalist Riley McDonough revealed that he's open to having a Filipina girlfriend. The group interacted with the noisy crowd and even took self-portraits using their fans' cellphone cameras.
New York City-based pop-punk band We Are The In Crowd continued playing despite the pouring rain. Some of the songs they performed include "All or Nothing," "Rumor Mill," and "See You Around" from their 2011 album Best Intentions.
ADVERTISEMENT - CONTINUE READING BELOW
Pop-rock band Allstar Weekend also jammed with their Filipino fans. The band gained popularity when they signed up with the Disney Channel television network. Allstar Weekend slowed down the crowd with their songs "Blame It On September" and "Come Down With Love."

Mayday Parade (top) and Yellowcard (bottom) performed their hits during the Circuit Fest: Music & Skate concert at the Globe Circuit Event Grouds in Makati City.

One of the most awaited rock bands to perform during the music festival was the Tallahassee, Florida quintet called Mayday Parade. Rain didn't stop the group from giving their all through their songs "Three Cheers For Five Years," "Jamie All Over," and "Kids In Love."
American alternative rock band Yellowcard closed the night by performing their songs "Awakening," "Surface of the Sun," "Always Summer," "Light Up The Sky," and "Only One." During their set, the late '90s rock band invited Tay Jardine of We Are The In Crowd to perform "Here I Am Alive" on stage.