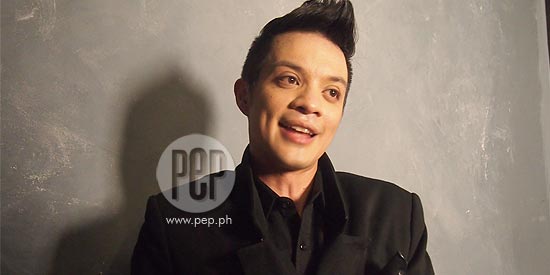 ---
Prince of Rock Bamboo is set to have a major concert titled BY Request at the Smart Araneta Coliseum this August 17 with Pop Rock Princess Yeng Constantino.
The Bamboo and Yeng tandem started when they did a production number in ASAP 2012 early last year. Their collaboration and duet of "Here Comes the Rain" received praise from their fans here and abroad. It also inspired producers to gamble on their tandem by coming up with a concert featuring the two rock artists.
Bamboo narrated how Yeng's camp approached him for a possible concert at the Big Dome. "My manager was approached by Yeng's, when they saw us perform a song on ASAP.
"They sort of liked how it was laid out and arranged so it was something we did vocally so ito na 'yon, that one thing sparked to one big thing so it's BY Request."
Yeng has been vocal about her huge respect and admiration for her fellow ASAP mainstay.

(Read: Yeng Constanstino and Bamboo to hold August 17 concert)

How does Bamboo see Yeng as a performer?
ADVERTISEMENT - CONTINUE READING BELOW
Bamboo in all awe responded, "She's great, she's great!
"I mean, you can really see that she has an original soul.
"She pushes that, she strives for that, she tries that, it's a great thing.
"I like to think myself as such. But yes, she's great! What can I say?"
But what made him say yes right away?
He answered, "Like what I said, this girl has an original soul.
"When we play that song "Here Comes the Rain again" on ASAP you can really feel us pushing each other, sort of figuring out the direction, it's a duet but it didn't sound separate, you know?
"It sounded like one song so that's the special thing for me.
"I wish that time we had harmonica, she also had her suggestions sa arrangement ng song during that time.
"So it's a collaborative team, a collaborative spirit so I am game, I am game for that."
ADVERTISEMENT - CONTINUE READING BELOW
BY REQUEST. BY Request has a different and unique concept. Earlier this month, both Bamboo and Yeng started asking their followers on Twitter to suggest songs that they want to hear in the concert. To Bamboo's surprise he's got a hundred and twenty pages of tweets with songs requests.
Bamboo shared how excited he is for the concert's concept. "I think that's the fun part.
"I always do shows...I always do major shows and that's part of what I do but what excites me about this whole project with BY Request is yung buong set list."
He revealed that the set list will be made by their supporters, "It [referring to the set list] is made by the fans, you know what I mean?
"Every single song I refuse to do any song that I've done unless they request it and put a twist to it."
ADVERTISEMENT - CONTINUE READING BELOW
The Rock Prince also shared his expectations for the concert, "So I expect to be doing covers and if I am gonna do originals there has to be a little bit of twist, may bago dapat so I joke around na 'Hallelujah' na polka or cha cha, you know what I mean?
"So I encourage people to sort of be creative also I think that's the kind of environment right now and the landscape of living these days.
"Ang sarap ngayon, e, napaka reactive natin ngayon, e.
"We do something tapos yung reaction ng tao makukuha mo na agad, e which is amazing.
"So I am glad to be a part of this time again."
Bamboo continued talking about the requests sent by his fans, "I have a hundred and twenty pages [of requests].
"I save everything from Twitter, we just gave the first question pa lang, e.
"We'll be giving a series of questions, I think every week, every month I have no idea pa.
ADVERTISEMENT - CONTINUE READING BELOW
"We fed them one question pa lang and I got 120 pages already from Twitter from [the question] 'what rock song do you want us to sing?'
"So yun, may nakuha na akong iba doon so I'll just filter that and move on to R&B, Pop or whatever."
Bamboo admitted that he will not limit song request to rock alone. He is open to do R&B and pop songs as well as covers for as long as it fits his taste. "Limiting it to rock will bore me then," says Bamboo.
He continued, "The whole point from myself is to have fun also, so if they give me a pop song or they give me an R&B song gagawin ko is I am going to make it my own.
"That's the goal for the whole thing."
Unlike before, Bamboo is more visible now not only on gigs and concert but also on TV. He is now one of the judges in ABS-CBN's upcoming reality singing contest The Voice of the Philippines. Has he fully adjusted to being part of the showbiz industry?
ADVERTISEMENT - CONTINUE READING BELOW
"I have not fully adjusted with the schedule," Bamboo admits.
"These people work a lot; it's a lot of long hours, which I have to get used to, the early hours I have to get used to.
"Hindi pa ako masyado nakaka-adjust pero I am enjoying myself the whole time.
"I just like the environment, the people, just working with different people every day, every week, different arranger, musical director, singer every week iba kasama ko, I am enjoying that aspect.
"I've been doing this for a while but it's something fresh, it's refreshing, it's a new day."
BAMBOO ON ACTING. Some OPM artists have resorted to acting. Does Bamboo want to pursue an acting career in the future?
"That will never happen to me, I'm sorry," Bamboo remarks.
"I guess I know what I am good at, I know what I am comfortable with.
ADVERTISEMENT - CONTINUE READING BELOW
"I'll never say never."
He recalled being a part of film back then, "But I am almost 99.9 % acting, maybe for a film. I have done it for a film with Rivermaya when I was still a part of Rivermaya but still no acting, we're singing as a group, no acting involved, that sort of thing.
"The Voice, felt naturally for me because there's no acting at all.
"Walang acting involve dun just me, being me genuine 100% and that's all I expect from myself.
"To be someone else, I don't know that's… I have to have someone I really trust for a film.
"For TV I don't know I can't handle the hours, I enjoy what I do too much, which is singing, performing and song writing.
"That's what I live and breathe for and having my own time."
But is he getting offers now?
ADVERTISEMENT - CONTINUE READING BELOW
He admits that he's been getting offers and been receiving scripts of films and the like, "Of course! There has been an offer, it's always been there.
"I have always said no, I've got scripts for certain things and stuff like that.
"I guess when the right thing comes along, if I feel I am mature enough and I can handle it, why not?
"But right now, today 99.9% but I doubt it because I love what I do.
"I can't imagine this… Ngayon pa lang I am doing so much already, so I can't imagine doing something else.
"Coz when I do something I want to be a hundred percent in, ayoko sabihin na, 'Ayoko lang daanan 'yan, e.'
"I'm not that kind of guy, not that kind of artist.
"So I don't want a pay check, I want something that's gonna fulfill me, so yun ang importante sa akin."
ADVERTISEMENT - CONTINUE READING BELOW
BETTER BAMBOO. Apart from being more visible now has he become a better artist now compared to how he was before?
Bamboo admits, "I don't think I've grown as an artist."
He explains, "For that aspect, I have grown as a person I think that's the bigger thing.
"I've matured, guess I feel more at home with what I do more accepting of what I do now.
"Dati I was very reluctant, I was sort of pulling away. I don't know but going away from a band, being on my own without having the wall and just be out there on your own.
"And having known what to hide behind, I think that has changed a lot of things."
He continued, "And as an artist, yes, I have grown.
"Because I have worked with lots of great artists and singers, arrangers and musical directors that is sort of informing and helping me along the way.
ADVERTISEMENT - CONTINUE READING BELOW
"It's great; I am happy where I am right now today."
Many have noticed that he has broken down the wall that puts him apart from his fans but then Bamboo explained, "I think I have always been a nice guy, I have to say.
"I have never been like an ass, you know what I mean?
"But there was never an avenue to have a direct line with them like a simple tweet.
"I only tweet sometimes, I do it personally, I respond personally, I like that, I enjoy that.
"May immediate response agad, e, it's funny sometimes and I get pictures which are very funny also."
Now that he is more busy than he was before, how does the Prince of Rock spend his free time?
He reveals that his love for books, film and TV. "I am always listening to music, playing the guitar pero if I am not; I am at home reading a book, watching a film or a TV show.
ADVERTISEMENT - CONTINUE READING BELOW
"These days TV shows are great I have even read an article that even writers, real writers are all flocking to TV because it gives them more space and breathing room to write.
"So I do that, I do stuff like that.
"Kasi it's sort of hard to find my own time.
"It is such a busy world so when I do have a time I try to find my space.
Bamboo admitted that before he became a singer his real dream was to be a soccer player. "I do sports, I play soccer and I play basketball but I stopped playing basketball for a while.
"Soccer was really my first sport. Before all these, that's what I wanted to be."