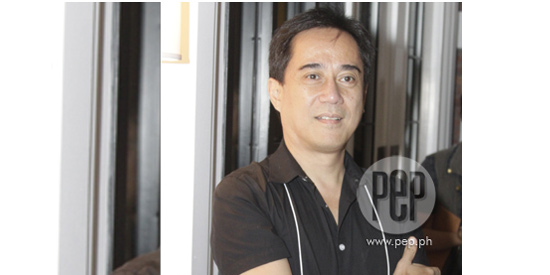 ---
Audie Gemora is a familiar face in theater but he is also visible in the mainstream entertainment industry. In fact, he was once tapped by TV5 to serve as the head of Talent 5, the talent management and development division of the Kapatid Network.


Given his wealth of experience as a thespian, director and performer, it is not surprising to know that he is the second artist to be featured in the Cultural Center of the Philippines' concert series. Billed I Was Here with Audie Gemora, the concert is the second installment of CCP's TRIPLE THREATS: Leading Men and Women of Philippine Musical Theater series.


Audiences will be able to watch Audie Gemora look back on his 35-year career during his concert on July 5, 2013, 7:30 pm at the Little Theater of the Cultural Center of the Philippines.


(Purchase tickets through Ticketworld)


This follows in the heels of Nonie Buencamino's own concert titled Much Ado About Nonie.


(Read: Nonie Buencamino will kick off CCP's concert series)


Aside from being a thespian, Audie is also a recording artist with his own Broadway album titled Playlist. He won an award for Best Performance as Male Lead in a Musical at the Gawad Buhay Awards of Philstage for his performance in Sweeney Todd. He recently starred opposite Joanna Ampil in Resorts World Manila's The Sound of Music. His latest endeavor is the Talent School of Academics and Art, a K to 12 school in tandem with Maestro Ryan Cayabyab opening in June 2013.


PEP.ph (Philippine Entertainment Portal) was able to interview Audie through the help of CCP's PR and Linkages director Irene Rada.


How do you feel about being chosen to take part in CCP's concert series?

"I was amused when Chris Millado told me about CCP's plan to do a concert series featuring leading men and ladies of Philippine musical theater. It's something CCP hasn't done yet. Filipinos love musicals. The gesture honors artists who have dedicated their careers to the genre."

How do you feel about being tagged as a triple threat?

"Ideally all musical theater performers should be good at acting, singing and dancing. I guess Nonie [Buencamino], Menchu [Lauchengco-Yulo] and I recognized early on in our respective careers that we needed to put in a lot of hours training in all three disciplines. Every time Miss Saigon auditions come to town, their panels are always blown away by the singing but they bemoan the fact that Filipinos lack dance training."


What is your advice for theater actors who want to penetrate the mainstream industry?

"If I could only make a decent living in the theater I wouldn't do anything else. But fact is: walang pera sa teatro. To be able to afford practicing our beloved craft theater folk need to find supplementary income elsewhere. Taking on a nine to five office job is hardly an option because it will pry you away from your art. So entering arts related fields—advertising, commercial modeling, events, teaching, showbiz, etc—is a more viable option.

"If you had a lot of training and experience in the theater entering the mainstream industry should not be too hard. But be ready to adapt because the demands there are totally different. The craft normally takes the back seat to more mundane concerns. In other words be ready to compromise your artistic ideals."


What would you like to change about the mainstream TV and movie industry today?

"Showbiz industry players always blame the masses for not being able to get beyond age old formulas so they dumb it down and cater to their "tastes."
As technology gets better...they get more sophisticated telling...the same old story.

"A girl in black face lights a candle turns white and finds her prince charming...an uptight amo falls in love with a yaya, the mestiza slaps the oppressed Pinay. They are still capitalizing on the victim mentality of Filipinos handed down from colonial times! Also religious idolatry renders entertainment to be idol / personality driven not content driven."


What habits would you want to change in young actors and actresses today?

"During our youth, my contemporaries and I only had the theater as our focus. We lived it, breathed it 24/7. There was a time when Repertory Philippines did 10 plays (20 shows each) and two musicals every year. That afforded us tremendous training doing drama, comedy, farces, classics, musicals...doing all sorts of roles. That's why most of us learned to be triple threats.

"Nowdays young people have so many options. They can VJ, model, enter showbiz, go malling, spend countless hours of in front of a TV set or computer. So my advice to young actors today is to be passionate about your craft and try to do as many shows as possible. Don't aim to be famous which is elusive and fleeting. Aim to be excellent and earn the respect of your peers. You will last longer too."


What can audiences expect from your concert?

"It is a biographical musical journey so I guess they can expect songs I'd done through out my 35-year career. I want it to be relaxed and casual."

What songs in your concert are particularly memorable to you?

"Most of them are memorable cause they marked musicals I'd done in past. There is a new song however I am singing called "Fight the Dragons" from a new musical Big Fish, which is just debuting on Broadway. It talks about fatherhood. I hope to sing it to my son. Let's hope I don't break down."


What songs best reflect specific highlights of your career?

"The concert title "I Was Here" from the musical Glorious Ones wraps everything up nicely. It talks about why actors act."
ADVERTISEMENT - CONTINUE READING BELOW