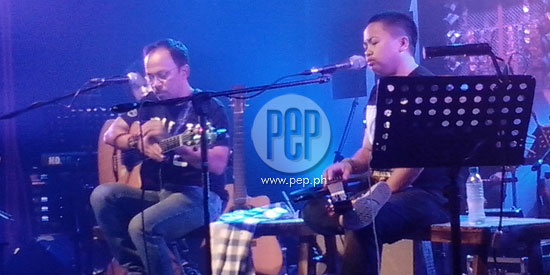 ---
The Tambayan Hits concert—featuring two well-known local acoustic singers, Noel Cabangon and Aiza Seguerra—is the kind of show that appeals to Filipinos because we are known for being fond of sentimental music and love songs.
Their concert held last June 21 at Onstage Theatre, Greenbelt 1, Makati City—which has a seating capacity of 800—was well-attended.
The repertoire of the concert mainly included tracks that Pinoys often sing when they gather together, whether they are videoke or "inuman" sessions, thus, the title of the show Tambayan Hits.
Although there were some foreign songs, most of them were OPM (original Pilipino music) hits that Filipinos usually sing along to during "tambayan" gatherings.
Aside from numerous slow and sentimental songs, there were also some upbeat and fast tracks for variation.
Celebrities who showed up included couple Ogie Alcasid and Regine Velasquez, and singers Juris, Bayang Barrios, Nyoy Volante and Charice.
Adding to the casual vibe of the event was the all of these celebrity attendees, except for Regine, went up onstage and sang a song each with either Noel or Aiza.
ADVERTISEMENT - CONTINUE READING BELOW
This arrangement made the show more appealing to the audience and made it appear like a usual jamming session wherein musicians have a good time by playing music and singing songs together.
Even the stage exuded a vibe of simplicity and being "masa."
The backdrop comprised of two sari-sari stores in an effort to recreate the usual "tambayan" venue. The eight-member band occupied most of the stage, while the singing duo of the show, Noel and Aiza, were at the center and were seated during the entire performance, except for moments when either one of them would have to go backstage.
There were no dance numbers, not a lot of movements on the stage, just sheer "jamming."
With her soothing voice, Aiza proved that night why she remains one of today's most successful acoustic singers.
Apart from that, she also showed her flair to be an effective host.
The casual conversations that she and Noel had after every song didn't feel rehearsed at all. Their chats were short, spontaneous, and very light.
ADVERTISEMENT - CONTINUE READING BELOW
Noel seemed a little shy, although you could tell that he was doing his best effort to keep up with Aiza, who would deliver funny comments every now and then.
For instance, when Nyoy Volante, who was wearing a coat, was called to come up the stage, Aiza quipped, "Nahiya naman kami sa coat mo." At that time, Aiza and Noel were wearing T-shirts.
When it was Charice's turn to sing with them, Charice emphasized how nervous she felt, to which Aiza responded, "Ala! Tigilan mo nga ako," as if to point out that it was hard to believe that a good singer like Charice would still feel nervous.
They proved that there is no need for long conversations to keep everyone engaged.
On the contrary, short talks with occasional funny and witty remarks proved to be a good way to prevent people from getting bored.
This easy, casual form of interaction with the audience is a nice break from the usual antics of performers, specifically with the proliferation of comedy-bar type of shows nowadays.
ADVERTISEMENT - CONTINUE READING BELOW
The highlights of Aiza's performances that night included her singing of "With A Smile," "Magasin" from Eraserheads and U.S. hit song "Kiss From A Rose" by Seal.
Her earnest performance of the song "Ano'ng Nangyari Sa Ating Dalawa," which she interpreted in Himig Handog P-Pop Love Songs earlier this year and her 2007 hit "Para Lang Sa 'Yo" from her album of the same title were standouts as well.
Meanwhile, Noel's performances of songs such as "Kayod Kabayo," "Tatsulok," his version of "Tuwing Umuulan At Kapiling Ka" and "Pumapatak Na Naman Ang Ulan" showed his versatility that he is equally good in singing slow and upbeat songs. But mainly it is his heartfelt singing of mellow songs that left a mark on audiences.
Noel and Aiza sang together for "You've Got a Friend," "Bridge Over Troubled Water," "Pakisabi Na Lang," and Joey Ayala's "Magkabilang Dulo ng Mundo." While the blending of their songs were literally and figuratively music to the ears, watching these two sing and play the guitar is mesmerizing.
ADVERTISEMENT - CONTINUE READING BELOW
In general, Tambayan Hits is the kind of event worth watching and a good way to end the week for its relaxing atmosphere, something different from the comedy-bar shows that many people patronize.
The show also proves that a simple set-up, short spiels, and featuring performers with genuine singing talent is a sure way to make it a hit.
Concert goers will be happy to know there might be future shows similar to Tambayan Hits. At one point during the concert, Aiza and Noel suggested that they might do a show with a similar format in other places here and possibly abroad where there are Filipinos who yearn to listen to OPM.