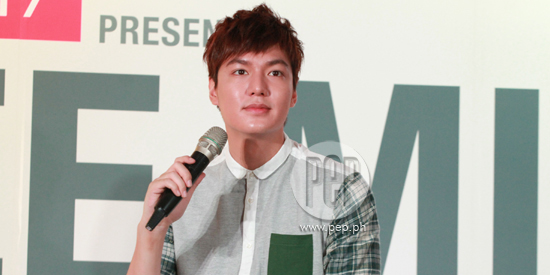 ---
Korean superstar Lee Min Ho is in Manila for the second time, fulfilling his promise to return to the Philippines. The 26-year-old actor will serenade his Filipino fans during his July 6 concert at the SM Mall of Asia Arena.
The first time the City Hunter star visited the country was in November 2012 for a fan meeting organized by Bench as part of its roster of global ambassadors.
(READ: Get to know Lee Min Ho through his style)
A press conference was held this Friday night, July 5, at Bench Tower in Bonifacio Global City for his My Everything—World Tour 2013 concert in Manila. Radio DJ and TV host Sam Oh hosted the press conference and served as the Korean-English translator for Lee Min Ho.
Min Ho differentiated Manila from other places he visited by saying that the country has many beautiful islands. He also observed about his Pinoy fans: "When I look into their eyes, they look innocent."
During his press conference, Min Ho revealed that the inspiration behind his album My Eveything is his fans. The Kpop star said that the album was his special gift to his fans whom he considers his "everything." Known for singing ballad and slow songs, Min Ho explained that he included upbeat and dance tracks in his album to "mix it up" a little and give his fans variety.
However, Min Ho admits that his singing skills need a "a little bit of work" so the album helped him hone this particular talent.
Fans are also told to look forward to his "butt dancing" during the concert. But he warns them not to expect too much since the response to his dancing isn't that great.
Compared to acting for television dramas, Min Ho feels that performing in front of his fans is rather "extraordinary."
ADVERTISEMENT - CONTINUE READING BELOW
His interpreter, Sam Oh, explained in his behalf: "With acting, it's usually on a TV show and it takes a lot of time to shoot it, then it airs and he doesn't get to watch the TV show with his fans. So, the reaction of the fans is delayed. As opposed to when he's singing, he's on stage so the immediate response when he's singing is really something else."
Radio DJ and TV Host Sam Oh interviews Lee min Ho (Photo by Noel B. Orsal)
This 2013, Min Ho is celebrating his 7th year in the showbiz industry. The Korean superstar was asked to describe his journey in seven words. Instead of a sentence, Min Ho blurted out six Korean words to describe his career spanning seven years. They translate to: "fans," "a TV show," "relationships," "Philippines," "album," and "Bench."
Lee Min Ho gives message to his Filipino fans. (Video by Nikko Tuazon)
The actor considers his Filipino fans as "passionate." The Korean star further explained that it might be because of the beautiful islands in the country, which is why his Pinoy fans exude "romaticism" and "femininity." The young actor promised to return again to the country.
The Philippines is the third country he visited for his 10-city concert tour. His tour kicked off last May 25 in Seoul, South Korea. After Manila, Min Ho is set to perform for his Taiwanese fans on July 21. The Korean superstar will also hold shows in Thailand, China, Malaysia, Japan, Hong Kong, and the United States.
(READ: Lee Min Ho will have a concert in Manila on July 6)
Tickets to the Manila leg of Lee Min Ho's My Everything –World Tour 2013 are available at all SM Ticket outlets. For more information, contact Wilbros Live at Tel. No. 374-9999 and visit http://facebook.com/WilbrosLive or http://twitter.com/WilbrosLive.
ADVERTISEMENT - CONTINUE READING BELOW