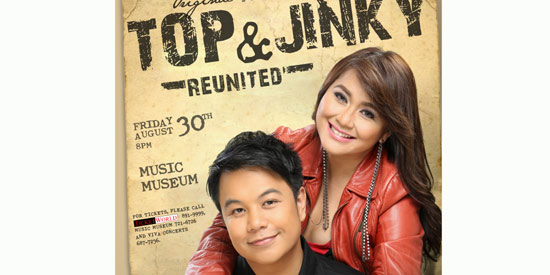 ---

Everyone can relate when they hear songs such as "Before I Let You Go", "So Slow", "Half Crazy", "One Hello" and so on. These are the songs that we listen for hours and hours when we get our hearts broken or when we seem to feel butterflies fluttering in our stomach. And it's been years since we last saw the duo who sang all of these perform on stage.

Now, for the first time ever since they left the band, original Freestyle vocalist, Top Suzara and Jinky Vidal will fire up the concert stage. They will perform relentless hits that they sang together back when they are just starting and rekindle lost memories of the band's journey in the music scene. Not only that, Top and Jinky will be collaborating together for an upcoming release of their own album. Music lovers and die-hard fans of this Davao-based band are in for a wonderful surprise during this August 30 event produced by VIVA LIVE, Inc.

The first time we saw them together was when they stormed the local music scene in 1996. Tracing its humble beginnings at the Apo View Hotel in Davao, where the group had its first gigs. When Freestyle hit the Manila bar scene in 1998, it was a case of young musicians being at the right place at the right time, with the right sound.

Those five guys and a girl had then what Manila was looking for—a new band with vast appeal and the knack for filling venues with their blend of pop, R&B and original hits. After seven years of doing what they do best, Freestyle has grown into an OPM heavyweight with four studio-recorded albums (two of which made platinum), a string of local and international concerts, and industry accolades under their belts, thus making them one of the country's best-loved and most sought-after group.

Yet, not all bands stick with its original members, some choose to fly solo and make a mark on their own. Just like what Top and Jinky did.

As Top left the band, many people thought he would leave the scene for good. Though he wanted to quit, the songwriter in him won't let him to do so. His own cup is brimming with emotions, from successes in life to deepest frustrations and heartaches. After few months, he re-emerged not with a band but as a solo artist. Positive feedback from fans and support of his family and friends inspired Top to release his debut album titled Carry On.

Jinky wanted to experiment, not only for herself but also for her band. And through the album, she paved way for a bright future and of course, the reputation of the band is still respected. The album bore the name of the artist, Jinky, with 13 tracks in it. It was officially launched under Viva Records last December of 2005. Her bandmates collaborated with her for the album. In fact, they served as back-up singers for 5 songs out of 13 tracks included in Jinky.

Rekindle fond memories as Top and Jinky serenade audiences on August 30, 2013, 8 PM at the Music Museum in San Juan City.


Ticket prices: Gold P2,500, Silver P2,000 and Bronze P1,000. For other inquiries, please call Ticketworld at Tel. No. 891-9999, Ticketnet at Tel. No. 911-5555, SM Tickets Tel. No. 470-2222, Music Museum at Tol. No. 721-6726 and VIVA Concerts at Tel. No. 687-7236. Visit www.viva.com.ph for more details.



ADVERTISEMENT - CONTINUE READING BELOW