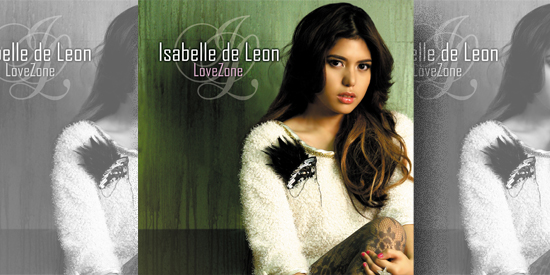 ---
Heart-warming and lyrically clever, Isabelle de Leon releases her debut album under PolyEast Records, laden with elements of folk, rock and pop into her unique signature sound.
"Music has always been a part of me as a kid—it has kept me going. I write songs to tell stories, I sing because I want to share it."
Former award-winning child actress Isabelle de Leon now adds the titles "singer/songwriter" to her resume, writing all the music and lyrics to the six songs her album LoveZone released this February 2013.
Isabelle describes the radio single "1 Week To Move On" as "dealing with the raw emotions around heartbreak" all infused in a melodic pop-rock hook. Her guitar-driven narrative "Feelingero" fits in gentle humor in young love… while "Friend Zone" speaks of unrequited love. "Magtatago ako sa init ng iyong yakap"—is the line that says it all in her comforting track "Sa Yakap Mo." Isabelle goes playfully poetic yet inspirational in "Alice Wonders" and "Pag-ibig Ko'y Sayo" speaks of love that is unconditional.
Eighteen-year-old Isabelle continues to write songs from her heart and plays several musical instruments as inspired by her musician dad who taught her to play the guitar, bass, drums, piano, and harmonica. Her sound is worldly, a fusion of not only her upbringing but also exhibits the diversity of her influences like The Beatles, Elvis Presley, Bob Dylan, the Carpenters, Led Zeppelin, Steven Tyler, Robbie Williams, U2, Coldplay, Michael Jackson, Katy Perry, Adele, Enya, and Noel Cabangon.
Now poised to be the next big PolyEast Records talent, Isabelle is out to prove herself as an artist with an album that has as much substance as her colorful young life experiences, formidable songwriting chops and prodigious skill with her instruments.
ADVERTISEMENT - CONTINUE READING BELOW
She brings together two things that are essential in an artist... the ability to relate to people's daily lives and the power to express emotions in new and powerful ways. "I want to sing songs I have a real connection to. Songs that have moved me or those who'll be listening to my music—be it love in all its grandeur or love lost. Isn't it a relief when you hear songs that say exactly what you feel?"
LoveZone is now available in the market released by PolyEast Records for P200.
Tracklisting:
Feelingero
1 week to Move On
Alice Wonders
Pag-Ibig Ko'y Sa 'Yo
Sa Yakap Mo
Friend Zone
Available also for download at www.MyMusicStore.com.ph and www.iTunes.com. For more information, you may visit the company's website at www.polyeastrecords.com