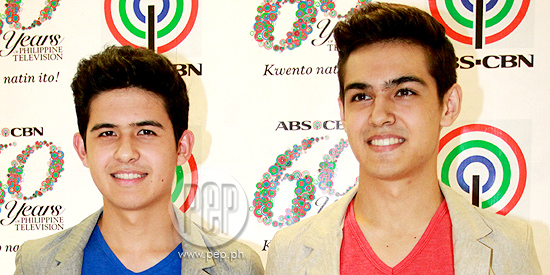 ---
Pop twin act The Perkins Twins have been a power duo for the most part of their lives. Growing up in Menlo Park, California, Filipino-American Jessie and Christian have played competitive tennis, won championships together, and brought home straight A grades to parents Tess and Tarny.
For fun, the fraternal twins have always played music too, both being gifted singers and guitarists.
With so much going on for the Jessie and Christian, 19, the twins have decided to take a year off from the University of California, Berkeley, and pursue a music career in the Philippines.
"We loved music since we were kids. We were singing all the time," told Jessie, who added that their American father used to play in a band and their Filipina mother is a skilled vocalist.
"It was always kind of there as a part of our lives.
"It was only recently that we decided to maybe take it a step further and perform.
"That's what we've been doing now.
"That feeling … to perform in front of people, to hear your own song being sung, it's really fun and exciting and we love it."
Star Records, the music-producing arm of the ABS-CBN Network, formally introduced the Perkins Twins as their latest recording artists during a press conference last Thursday, August 15.
Christian and Jessie's Tagalog single, "Ikaw Na," is available as a digital track now sold online. The song is also the official soundtrack of TV host Boy Abunda's segment on Bandila. While there is no definite release date yet, the twins's debut album will be out soon.
The album, according to the twins is a mix of Tagalog and English songs, which they co-wrote with composers/arrangers Marvin Querido and Vehnee Saturno.
The Perkins Twins, who see themselves as a pop group, are influenced by Maroon 5, Bruno Mars, and The Script. Being active in their church, Christian and Jessie's songs are inspired by Christian band Switchfoot and singer Jeremy Camp.
ADVERTISEMENT - CONTINUE READING BELOW
CREATIVE DIFFERENCES. It never crossed Christian's or Jessie's minds that either of them could perform as a solo artist.
"We both are really close. So, I mean, since we were young we've always been together.
"I think every day of our life we've been together so. We play tennis together. We play basketball.
"So everything, in all aspects of our lives we're together.
"I think it's helpful too because we blend really well together," said Christian.
The twins believe that one of the things that they could add to the market is their being a twin act.
"We want to take advantage of that as much as possible," he added.
Jessie, on the one hand, assured, "We look different but our voices sound the same and blend pretty well."
When it comes to writing songs, the two would just find themselves picking up their guitars and begin strumming a tune.
"If it sounds good to the ears, we use that. And then we add the words to it later on," shared Jessie.
Even as fraternal twins, do they have creative differences, too?
Slightly bemused by the question, Chrisitan replied that they do have their differences too but it never came to a point where they clashed.
The good thing about it is that when they input their individual opinion, their songs would come out richer because they would "try to collaborate as much as possible."
At the end of the songwriting process, their ideas would often coincide, the same way they have their whole lives.