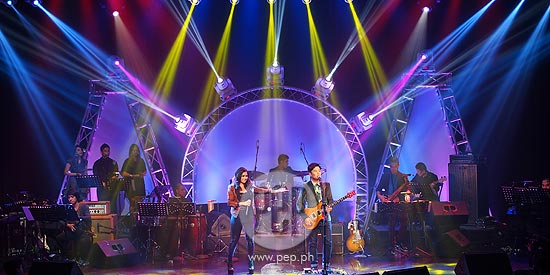 ---
"You are part of the show," Top Suzara told the audience after he opened the August 30 concert Freestyle's Top and Jinky: Reunited, which was held at the Music Museum, San Juan City.
The performance started around 9 p.m. with Top singing George Duke's "Sweet Baby" before calling to the stage Jinky Vidal who joined the medley with a rendition of Patti Austin's "All Behind Us Now."
The two former vocalists of the band Freestyle went straight to their third song of the night with Earth, Wind, and Fire's "After the Love has Gone" before introducing each other to the fans who have come together for this one-night reunion.
Top then led the crowd into having a "Flashback Friday" moment when he asked, "How about some old songs?"
The crowd cheered enthusiastically as he and Jinky started their second medley featuring classic OPM songs that were previously included in their Freestyle compilation albums such as "When I Met You," "Bakit Ba Ganyan," and "I Think I'm In Love."
Then they sang the duet "Paano" from their Freestyle album I Wanna Get Close.
At that point, Jinky told their fans, "Make some noise!" Top asked the crowd if there were people who were having a reunion at the concert as well. Jinky even mentioned that they have fans from Cebu who flew all the way to Manila to attend their concert.
Then Top mentioned "Flashback Fridays" again before singing a medley of Freestyle's classic songs, "Till I Met You," "This Time," and "Para Sa 'Yo."
ADVERTISEMENT - CONTINUE READING BELOW
The audience clapped in unison as Jinky started singing "So Slow," another one of Freestyle's hits.
Top then gave his rendition of "Before I Let You Go," which Jinky referred to as their "signature song." The crowd sang along as the last verse of the song winded down.
More banter ensued as Top and Jinky reminisced about their past. For their duet "Bakit Ngayon Ka Lang," the crowd gamely sang along again and Jinky even handed the microphone briefly to an audience member.
Jinky then announced, "It's time to feature my ex-partner, Mr. Top Suzara."
At this cue, Top performed a couple of his hits, "Once in a Lifetime" and "Sabihin Mo Na."
He then invited everyone to join him as he performed songs that are fit for reunions such as "Bluer Than Blue" and "Maybe This Time."
Towards the end of the show, Top thanked everyone for showing support for this concert, which also marks the launch of their new album titled Top and Jinky: Reunited. He explained his next song, "Pangarap," came from the album and that it is a song dedicated to those in love with a person that they really shouldn't love.
Another memorable song in the concert was their rendition of "Separate Lives."


Top asked Jinky to be part of the set and Jinky launched a medley featuring hits such as "Break It to Me Gently," "I Don't Want You to Go," and a song that Top wrote for her, "Goodbye."
ADVERTISEMENT - CONTINUE READING BELOW
Jinky also asked Top to join her in singing a song from their album Reunited, which was indeed fitting for their concert's theme. They launched into a dance medley interspersed with "thank you's" for their official media partners, the band, and of course, the audience for coming.
As the singers said goodnight, the crowd at the sold-out venue shouted for an encore. Top and Jinky obliged without hesitation. The final dance medley ended the show on a high note and the crowd flocked outside to wait for Top and Jinky to sign copies of their CDs.
The 10-track album features 5 covers and 5 original songs by Top Suzara.