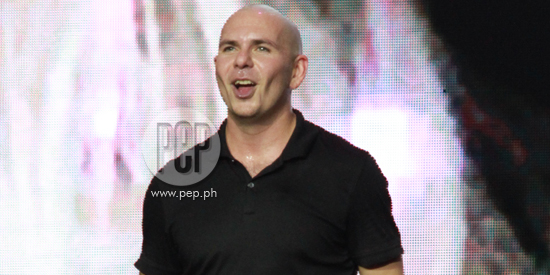 ---
Pitbull threw one big midweek party in Manila.
Cuban-American rapper Pitbull didn't keep his fans waiting for long when he showed up around 9 p.m. for his Global Warming World Tour concert at the Mall of Asia Arena last Wednesday night, September 4.
Wearing a simple all-black ensemble, Pitbull got the party started with his stirring performance of his non-stop hits such as "Mr. Worldwide," "Hey Baby," "International Love," and "Dance Again."
After that opening number, Pitbull finally spoke to his screaming Filipino fans, who were all psyched to see him live on stage.
"I wanna say hi to everybody in Manila tonight!
"I wanna say thank you for having us here tonight. We appreciate the love," he began.
Pitbull then expressed his concern for victims of the intense flooding that affected the whole metro recently.
"I know you guys just got hit hard by a typhoon. And it only goes to show that what doesn't kill you will only make you stronger.
"In my city in Miami, we've been hit by many, many hurricanes. So I understand the feeling.
"So, once again, I thank you guys for having us here tonight, and hopefully, we can give you a little inspiration and motivation to keep moving forward," he added.
NON-STOP PARTYING. True to his word, Pitbull's next set of songs totally hyped up the crowd with a mix of his collaborations with Flo Rida (Boom, Shake Drop), Drakey (Shut It Down), and J.Lo (Live It Up), Shakira (Get It Started) and Marc Anthony (Rain Over Me) from 2008 to 2013.
Pitbull also showed off his sexy Latino dance moves along with his alluring female back up dancers.
In turn, fans couldn't help but imbibe his contagious energy as they preferred to stand and dance to their heart's content.
ADVERTISEMENT - CONTINUE READING BELOW
Even those who are seated in the audience are either swaying or putting their hands up in the air just as Pitbull instructed.
He certainly knew how to give his fans a good time by urging everyone to party with him.
Last night, it was as if MOA Arena turned into this one huge venue for clubbing and dancing for avid partygoers.
Pitbull also threw in a few of his Spanish songs such as "Danza Kudoro" and "Echa'Palla," which elicited fewer cheers from the non-Spanish-speaking audience.
But the crowd soon got all-revved up again as he performed more of his party hit songs such as "I Gotta Feeling," "I Know You Want Me," and "On The Floor."
Even those who are not so familiar with Pitbull would surely recognize dance favorites such as "DJ Got Us Falling In Love," "Hotel Room Service," and "Feel This Moment" (his popular collaboration with Christina Aguilera).
For the finale, Pitbull made his concert a night to remember with his performance of "Give Me Everything" (featuring Neyo, Afrojack and Nayer), which ranked number one on the Hot 100 Billboard U.S. music chart in 2011.
During the latter part of the song, a burst of confetti popped on stage, leaving fans wanting more after an hour and a half of listening to the rapper's upbeat songs.
Based on our observation, the program lat night was fast-paced with a few barely-felt intervals.
ON CRITICISMS. In between songs, Pitbull kept the audience entertained with his positive pep talk with the audience.
At one point, he shared how he deals with his detractors in the business.
"And everyone, we gotta have critics. 'Coz if you don't have those that means you're doing shit right. So, to the haters we say thank you, to the critics we say we love you," he exclaimed.
ADVERTISEMENT - CONTINUE READING BELOW
On the downside, there were a number of vacant seats at the upper box area.
Nevertheless, Pitbull delivered a great show, never wavering with his energetic and feel-good vibe throughout the night.
Local celebrities who came to watch his show included Vice Ganda, Richard Gomez, Ryan Bang, Melissa Ricks, Ina Raymundo, Daiana Menezes and Maverick Relova.