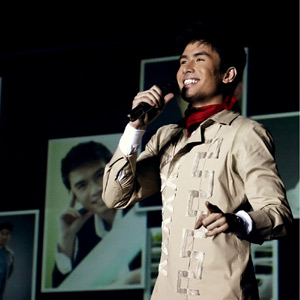 ---

ChristianBautista turned his successful concert at the Cuneta Astrodome last October 6into a big birthdaycelebration with his avid supporters, in anticipation of his birthday on October 19. The concert did not center on the balladeer's turning 26, though, but on his many inspirations—his family, friends and fans. And so, the very apt concert title, Christian Inspired.


The birthday boy rendered several songs that he heartily dedicated tohis family based in Imus, Cavite; to friends in and out of showbiz, and to his fans, who have been with him since his competing days inABS-CBN's Star In A Million Season 1.


Written and directed by veteran concert director, Freddie Santos, ChristianInspired kicked off by opening a humongous 9 x 42 feet watchout screen as main backdrop. The audience "Wowed!" assplashy visual effects and interactive devices popped out to complement what washappening on stage. Christian began his "party" with a U2medley of songs, including "In The Name of Love,""Elevation" and "Beautiful Day."


In Christian's opening spiel he candidly shared with theaudience how upset he was when he made a blunder while singing the National Anthema few weeks before his major concert. "...I understand why some people outthere are upset. Believe me, ako din, nainis sa sarili ko. Me,forgetting the National Anthem, ako pa naman tiga-Cavite kung saan unangkinanta and Pambansang Awit! If Emilio Aguinaldo were alive...I would bedead," said Christian in good humor.


The audience sympathized with the charismatic singer and collectively urged himto go on with the show with loud cheers and applause.


The tone of the show started to be a bit serious as Christian sang songs forhis parents and younger brothers Joshua and Jordan. With Christian's signatureheartfelt singing, he effortlessly dished out the songs, "Stand By Me,""Lean On Me," "Of All the Things," "Colour Everywhere" and Josh Groban's "You Raise Me Up" and "YouAre Loved."


Featured guests Toni Gonzaga and Sam Milby, both real-life friends ofChristian, joined the birthday boy on stage and sang songs about friendship,culminating with "That's What Friends Are For."


Speaking of real-life friends, Piolo Pascual, Direk Joyce Bernal, Erik Santos,Jed Madela, Mark Bautista, Daisy Romualdez, and girlfriend Rachelle Ann Go werein attendance at the Astrodome. Bro. Eddie Villanueva and wife Dori were alsospotted in the audience.


The evening's portion dedicated to Christian's countless fans highlighted amedley of the singer's hit songs, which are popular not only here in the country but alsoin countries such as Indonesia, Malaysia and Singapore. Chart topping singles,"The Way You Look At Me," "Invincible," "More ThanYou'll Ever Know," "Got to Believe in Magic," among others,comprised this selection.


But what brought the house down was Christian's hilarious interpretation ofBilly Crawford's "Bright Lights," complete with dance moves andback-up dancers on the watchout screen, who were actuallyChristian's clones. Fellow Swatch watch endorser Billy Crawford held his majorconcert at the Big Dome on that same night.


Other featured guests Kuh Ledesma, Joni Villanueva, Sam Concepcion, TriciaAmper-Jimenez and Gary Valenciano ended the evening on a high note with praiseand worship songs all dedicated to Christian's ultimate inspiration, the LordAlmighty.


Right on the heels of Christian's major concert at the Astrodome is the releaseof the Christmas edition of his Platinum awarded Christian Bautista Live!album, featuring five Christmas recordings.
ADVERTISEMENT - CONTINUE READING BELOW
He will also be the main featuredartist in two concerts: 2 On 2 Anniversary Concert at the St. FrancisSquare on November 16 and Celebrating Life: World Vision Philippines' 50thAnniversary Concert at the PICC Plenary Hall on November 24.
In the 2 On2 concert, he will be paired with Gary Valenciano, and in the World Visionconcert, he will share the stage with fellow STAGES artists Sam Concepcion,Reymond Sajor, and Aria Clemente.


Christian Inspired was line-produced by STAGES, with musical direction by Mel Villena, for the Imus Unida Christian School in Cavite.