Be Careful With My Heart lead actor Richard Yap, who is well known by TV viewers as 'Ser Chief,' is thrilled over the launch of his first-ever recording album under Star Records.


During the September 22 launch of his self-titled debut album, Richard told the audience: "Easy listening lang 'yan. Saka na 'yong rakrakan."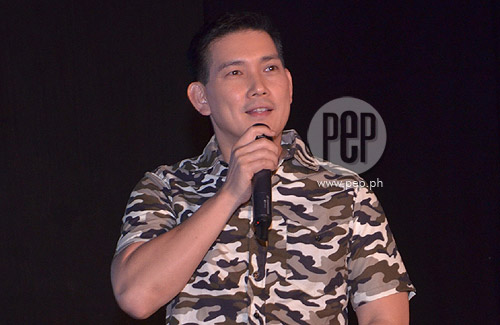 Richard Yap during his September 22 album launch at the SkyDome

"Dream come true para sa akin itong launch ng solo album ko. Mula kasi pagkabata, hilig ko na talagang kumanta," Richard was quoted as saying. "At thankful ako sa aming teleserye dahil sa pamamagitan ng aming official soundtrack, na-discover ng tao na marunong din akong kumanta."
The nine revivals included in the album were reportedly all chosen by Richard himself. The actor also compared his self-titled debut album to their TV series since it contains feel-good, easy listening tracks.
The carrier single of the self-titled album is "Don't Know What To Do, Don't Know What To Say."
"It covers all genres, from pop to ballad to alternative, appealing not only to music fans in my age group but also to the teens and in-betweens," said Richard in a statement. He stressed that his album is entirely different from Be Careful With My Heart album.
"This is very special for me because I put a lot of hard work in it so that we could come up with something that's really worth paying for. I'm hoping that all of my supporters will love it too."
Richard, who grew up listening to the music of Queen, Barry Manilow, Kenny Rogers, Hall and Oates, Phil Collins, and Mike Francis, feels no pressure getting compared with other talented singers in the country.
I don't think there's a need to compare because we have different musical choices and different target audiences," he explained.
Featured in Richard's solo debut album under Star Records are revivals of "Promise Ain't Enough," "Think I'm In Love Again," "Can Find No Reason," "You Take My Breath Away," "Chasing Cars," "High," "Afterglow," and the Chinese version of "Oh Babe."
The album also carries the bonus tracks "Please Be Careful With My Heart" and "Salamat."
Richard's first album is now available at all record bars nationwide for only P250. Digital tracks can also be downloaded via Amazon.com, Mymusicstore.com.ph and iTunes.