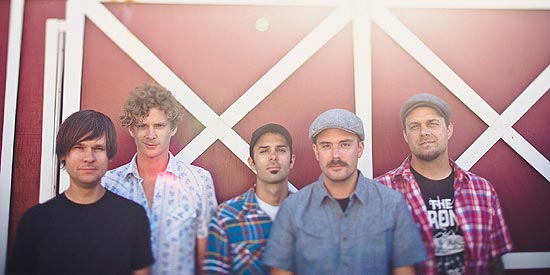 ---
American rock band Relient K is currently in the Philippines for a series of mall shows to be held this September. Front man Matt Thiesson and guitarist Matt Hoopes faced the Philippine media earlier today at the Oz Bar, Holiday Inn in Makati City.
RELIENT K. Members of the press curiously asked the band members about their band's name. Matt Hoopes, the band's guitarist, shared the story behind the name Relient K.


Hoopes said, "The name Relient K came from the car that I drove in high school.


"It was a hand me down from my grandma.
"It's just this old-falling-apart-car that she had given to my dad and my dad gave it to me and then I learned how to drive.
"It's really falling apart. The bottom part is falling out a bit and stickers are all over the back and my friends would tell me that I really have a horrible car.
"And they said, 'Oh, we should name our band that.'"
Fifteen years ago, they started out as a high school band and to date, Relient K has produced chart-topping hits from its six full-length albums, five EPs [Extended Plays] and a Christmas record. Relient K entered the mainstream scene in 2004 with the release of their studio album Mmhmm.


Some of their hit songs include "Be My Escape," "Candlelight," "The One I'm Waiting For," and "Pressing On."

The band members admitted that they write songs based on their personal experiences, which allows their fans to easily relate to their songs.
ADVERTISEMENT - CONTINUE READING BELOW
Guitarist Matt Hoopes revealed the secret why they have remained together as a band for the past 15 years: "We just love each other."
FROM CHRISTIAN ROCK TO POP ROCK. Relient K was previously known for their distinct Christian rock style but they recently explored a different genre: pop rock.
Vocalist Matt Thiessen explained, "We really like Blink 182 and a bunch of pop rock bands when we started out so we just wanted to be like them.
"But as we get older, our influences expanded and we introduced the smart piano in our music.
"We just wrote the music that we like."
COLLAPSIBLE LUNG. Last July 2, Relient K released its newest album titled Collapsible Lung.
The name of the album comes from the title track "Collapsible Lung," which is the last song on the record.
Thiessen said, "The album is more of a pop album."
He predicted, "That being said, our next album will definitely be a rock record. Maybe even punk rock, who knows?"
RELIENT K ROCKS AYALA MALLS. Fortheir first visit here in Manila, the American rock band will perform in different Ayala Malls this September.
Witness and watch Relient K's heart-tugging lyrics and sound at the Market! Market! Activity Center on September 27, 6:00 PM; Alabang Town Center on September 28, 4:00 PM; Glorietta 5 Atrium on September 28, 6:30PM; and Trinoma Activity Center on September 29, 6:00 PM.