American singer-songwriter Ke$ha threw an hour-long party filled with singing and dancing for her Warrior Tour at the Smart Araneta Coliseum last October 24.


Through her songs, Ke$ha brought not only fun but also awareness about lesbian, gay, bisexual, and transgender (LGBT) issues to the Philippines.
The 26-year-old singer performed cuts from her 2009 album Animal and Cannibal such as"Blah Blah Blah," "Your Love is My Drug," "Take It Off," and "Animal."
Before Ke$ha sang "Warrior" from her 2013 album of the same name, she said, "No one can bring us down; we live every night like it's our last. So join me in this fight for acceptance for each other and ourselves.
"For without acceptance, there is no love.
"And love is the magic of life."
Ke$ha truly knows how to make a full production performance when she surprised the audience with her onesie armoured suit.
Her popular song "Crazy Kids" set the mood for an ultimate song-and-dance party.
Before performing her song "We R Who We R," she made a request: "Can you promise me that each of you will be yourself unapologetically f----ing amazing?"
And the crowd said in unison, "Yes!"
For her next set, Ke$ha wore glittered shorts, a black top and a fancy headpiece that suited her "Gold Trans AM" song number.
"Who among you have been to a strip club?" Ke$ha asked.
She then revealed the back story of the song "Take it Off."


"So this one time that I went to a strip club, everything was normal until all of a sudden things got really weird.
"And every person in this place got butt naked so I talked to myself, 'That's weird!'
"So I wrote a song about it."
She hyped the crowd when she said, "You guys may have heard this song before but you've never seen it like this. This song is called, 'Take it Off.'"
The singer was generous in expressing her love for her Filipino fans. "Manila! It's my first time here and I am f---ing excited to be here with you tonight."
She continued, "I want to talk to you about love. I really f---ing love you.
"I also love my cat. Now I don't know guys if you know about my cat but his name is Mr. Peep$ and he's kind of a big deal.
"You should follow him on Twitter."
Then she expressed her love for "balls," which led some to believe that she was referring to the male body part.


But Ke$ha clarified: "But something else I love, I have a deep love in my heart, I love balls. Do you guys like balls? I love big balls, I like small balls but my favorite ball is an eye ball."
Her green joke led her to introduce her next song, "Party." She danced and partied on stage with dancers wearing giant eyeball masks and she totally nailed it!
The openly bisexual Ke$ha expressed her support for the LGBT community in the Philippines when she said, "If you guys know me, you know that I am an avid supporter of every kind of love and I wrote this next song about them. It's about love… and drugs."

Ke$ha made sure to impress the crowd through her flamboyant outfits, creative props, and elaborate stage design. A giant inflatable pig and a set of women's legs (in heels!) were set up on the stage of the Big Dome.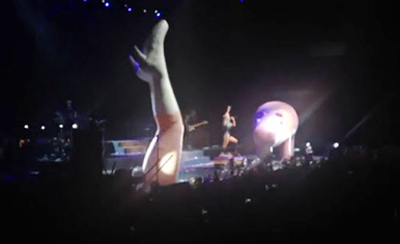 In the middle of her "Your Love is My Drug" performance, a back up dancer went out on stage carrying the Philippine flag, which excited the crowd.
Before leaving the stage, she told everyone, "I hope you all get laid tonight!"