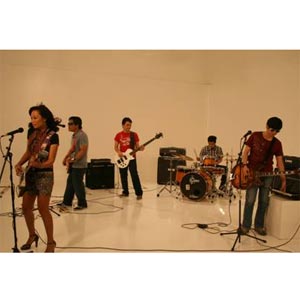 ---

The Cambio band is set to rock bars and malls this November.


The five-member band is composed of musical heavyweights RaimundMarasigan and Buddy Zabala of E-heads, Kris Gorra-Dancel of Fatal Posporos,Diego Mapa of Pedicab and Ebe Dancel of Sugarfree. The exciting mix of talentand musicality of Cambio's members makes it no surprise that their musicstands out in today's market and is bound to hit any bar goer's musical bone.

In fact, the band has already released two albums, the mostrecent titled CambioMatic, which came out last July. Itscarrier single "Call Center" has become an NU 107 charttop-notcher. The group has alsoperformed in some top-caliber shows and events ranging from the MTV MusicSummit, Fete dela Musique, SMB Oktoberfest, the NU107 Rock Awards, and the firstRockestra.


Now that the band plans to reach out to their fans, Cambio willhit the bar- tour stage with the help of MCA Music and 97.1 Barangay LS-FM. Catch Cambio as they play their music in thefollowing branches of Padi's Point on these dates: November 14 in Araneta,November 22 in Novaliches, November 29 in Alabang, and December 2 inCaloocan.


Fans canalso have a chance to meet the group personally and get an authograph when they buy a CD copy of their CambioMatic. Just be at the followingSM branches this November: November 10 - SM Southmall, November 11 - SMLipa, November 17 - SM City North Edsa, November 23 - SM City Marilao, andNovember 30 - SM City Taytay.