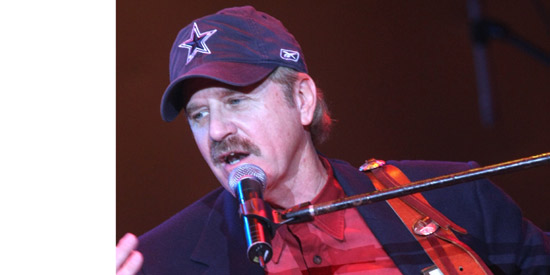 ---
Clad in his trademark cap, jacket, and jeans, John Ford Coley encourages Filipinos to "be strong and courageous" while dealing with the devastating aftermath of super typhoon Yolanda as well as the recent magnitude 7.2 earthquake.

John is the other half of the American pop rock duo responsible for classic 1970's hits such as "It's Sad to Belong," "I'd Really Love To See You Tonight," "Just Tell Me You Love Me," "Love Is the Answer," and "What's Forever For."

His partner, Dan Seals (more popularly known as England Dan), passed away in 2009.
"Natural disasters irritate me," admitted John Ford Coley during his November 13 press conference in Manila.

"I hate earthquakes. I hate all those kinds of natural disasters because they affect a lot of people. So we're trying to help them get on their feet a little bit."
The Texas-born singer is currently in the Philippines not just to conduct a series of shows but to help out in any way he can.
"I think anything you do to make an effort...if you can't donate—not everyone can donate—but you can pray or you can send good thoughts.

"Everybody's got a different way. Prayer to me is just as effective as money."
John is very familiar with the Philippines since he has visited the country--according to him—"close to 20 times since [the year] 2000."
He proudly exclaims, "Pinoy ako."
"I can spot a Pinoy like that. I'm out in different places…[I see a Pinoy and ask] you're from the Philippines? [They say] `How do you know that?'"
ADVERTISEMENT - CONTINUE READING BELOW
"I love the Philippines. This is my second home. I've been here many times.

"People have always been so kind to me, they have invited me to their homes. They sing along. They laugh. [Now] it's payback."
John and his wife have set up a fund to donate financial assistance to the victims of super typhoon Yolanda.
"We're setting up a fund. We're putting up a post office box. We have a lot of Facebook friends donating money in.

"We want to make sure 100 percent goes in to the people. Not 75 percent or 50 percent because someone's taking administration fees. We're sending it over here..."
He also reveals that he has performed in Tacloban in the past and that he has fond memories about the city.
"I've been to Tacloban several times and played there... It was a wonderful place they treated me really well."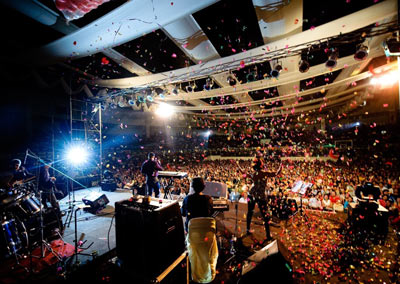 This photo was taken during John Ford Coley's Tacloban concert


He continues, "The fact is those [scenes of the typhoon's aftermath] are absolutely wretchedly horrible. And they're irritating…I don't know why they happen. I'm brokenhearted at the loss of life specially the children…who can explain it?"
ADVERTISEMENT - CONTINUE READING BELOW
John was supposed to perform in Cebu before the magnitude 7.2 quake hit BohoL, jolting parts of the Visayas and Mindanao regions.
"We had several shows that we were scheduled to begin with. Then there was the earthquake in Cebu…The venue we were going to play was not made available…it was damaged…

"[I said], 'let's do a benefit concert to raise some money.'
"We're going to Cebu for a benefit concert this Friday [November 15, 2013] just to donate money, get things going again."
His Love Overload Over Asia concert took place at the Solaire Grand Ballroom last night, November 13.
John also has performances lined up in Davao, General Santos City, Clark, and Thunderbird Resort in Binangonan.

After his shows in the Philippines, he will be performing in Hong Kong.
Before arriving in the Philippines, he conducted a series of shows in the U.S. and he candidly admits, "I haven't had a lot of sleep."
Yet he manages to joke, "It's always a long flight...if you see me staring into space…don't worry, I'd come back."
He promises, "It's going to be a nice fun show. We'll play as many [classic songs] as those as we can remember."