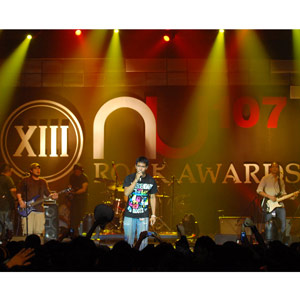 ---

When the rock station NU 107hatched its first Rock Awards way back in 1994, it seemed like an idea wayahead of its time. But on hindsight, the musical climate was already ripe foran event to honor Pinoy rock n' roll.
Trend changes and a couple of new faces later, the NU RockAwards will stage the 14th installment of its highly anticipated affair onNovember 30 at the World Trade Center, Pasay City.
NU 107 station manager, Cris Hermosisima, fondly recalledthat the first rock awards was more of like a close-knit family celebration ofartists and musicians in the face of alternative music's commercial successafter years of obscurity.
"But throughout the years the rock awards has evolved andbecome a big community of musicians and fans," Cris proudly told PEP (PhilippineEntertainment Portal) last November 8 at their press conference held in Alchemy Bar, Julia Vargas Avenue, Pasig City.
The articulate station executive cited loyalty as thestrongest determining factor on why NU 107 continues to remain steadfast despitethe shifting taste of the public when it comes to music.
"From day one hindikami nag-reformat. We've always been a rock station and kids who listened to usbefore still listen to that kind of music. It was actually passed on togenerations, plus the fact that we never wavered in terms of reaching out andgiving them what they want, and supporting the bands and giving them exposure," he explained.


TALENT MORE THAN PORMA. The NU 107 RockAwards is not spared from harmful intrigue. Every now and then, some fanswould question the results of the official tally and speak out in support oftheir favorite band or artist.
ADVERTISEMENT - CONTINUE READING BELOW
Resident DJ and The Dawn guitarist Francis Reyes defendedthe criteria being used by the station in arriving at a decision. Although fanvotes matter immensely, musicianship and creativity remain crucialin coming up with the final list.
"It's not a popularity contest," said Reyes, "and notmerely [paying] lip service, saying, 'Uy, sikat, sige bigyan natin ng award. It's notreally about those things because first and foremost we're talking here oftalent and artistry, so, that would still carry the weight."
Cris, on the other hand, attributed thedisagreement to the simple fact that some people or critics sometimes fail totake note of the rules of the competition.
"They just miss on some details but when you explain it tothem they understand. But fortunately, we never encountered any huge problemsabout people or artists questioning the results or the credibility of the awards,"said Cris as he heaved a sigh of relief.
But such quarrels are minor compared to thepositive feedback generated by the yearly event. "As usual, it's gonna begreat," grinned Francis, talking about the past and the upcoming rock awards.
The legendary guitarist-turned-DJ followed up his previousstatement with a short yet convincing come-on: "We'll be having a party."
Rock n' roll!
Here is the list of nominees for the 14th NU Rock Awards:
BEST NEW ARTIST:
1. Hilera
2. Sinosikat?
3. Giniling Festival
4. Hardboiledeggz
5. Salamin
6. Wake Up Your Seatmate
VOCALIST OF THE YEAR:
1. Bamboo Mañalac of Bamboo
2. Miggy Chavez of Chicosci
3. Steve Badiola of Typecast
4. Ebe Dancel of Sugarfree
5. Kat Agarrado of Sinosikat?
6. Marc Abaya of Kjwan
ADVERTISEMENT - CONTINUE READING BELOW
GUITARIST OF THE YEAR:
1. Mong Alcaraz of Chicosci
2. Ira Cruz of Bamboo
3. Mike Elgar of Rivermaya
4. Boogie Romero of Kjwan
5. Steve Badiola of Typecast
6. Junji Lerma of Radioactive Sago Project
BASSIST OF THE YEAR:
1. Nathan Azarcon of Bamboo
2. Carlos Calderon of Chicosci
3. Japs Sergio of Rivermaya
4. Francis De Veyra of Radioactive Sago Project
5. Ivan Garcia of Hilera
DRUMMER OF THE YEAR:
1. Vic Mercado of Bamboo
2. Melvin Macatiag of Typecast
3. Joel Salvador of Chicosci
4. Mark Escueta of Rivermaya
5. Chris Cantada of Spongcola
BEST LIVE ACT:
1. Bamboo
2. Chicosci
3. Typecast
4. Kjwan
5. Radioactive Sago Project
6. Jeepney Joyride
7. Hilera
IN THE RAW AWARD:
1. Subsscapular
2. Teenage Hero
3. Kastigo
4. Sutil
5. Reklamo
SONG OF THE YEAR:
1. "WILL YOU EVER LEARN" by Typecast
2. "CHICOSCI VAMPIRE SOCIAL CLUB" by Chicosci
3. "TATSULOK" by Bamboo
4. "SALA" by Pupil
5. "TURNING MY SAFETY OFF" by Sinosikat?
6. "SUNDO" by Imago
7. "DVD X" by Sandwich
ARTIST OF THE YEAR:
1. Bamboo
2. Chicosci
3. Typecast
4. Kjwan
5. Sugarfree
6. Radioactive Sago Project
ALBUM OF THE YEAR:
1. "WE STAND ALONE TOGETHER" by Bamboo
2. "EVERY MOSS AND COBWEB" by Typecast
3. "TANGINA MO ANG DAMING NAGUGUTOM SA MUNDO FASHIONISTA KAPA RIN" by Radioactive Sago Project
4. "TALA-ARAWAN" by Sugarfree
5. "MOONLANE GARDENS" by Orange & Lemons
6. "2STEPMARV" by Kjwan
BEST ALBUM PACKAGING:
1. Inksurge.com for Twilight of Hale
2. Paolo Lim for Isang Ugat, Isang Dugo of Rivermaya
3. Sarah Gaugler and Clementine for Moonlane Gardensof Orange & Lemons
4. Inksurge.com for Tala-arawan of Sugarfree
PRODUCER OF THE YEAR
1. Bamboo and Angee Rozul for We Stand Alone Together ofBamboo
2. Typecast for Every Moss And Cobweb by Typecast
3. Lourdand Francis De Veyra for Tangina Mo Ang Dami Nagugutom Sa MundoFashionista Ka Pa Rin by Radioactive Sago Project
4. RobertJavier and Jonathan Ong for Moonlane Gardens by Orange & Lemons
5. RobinRivera for Tala-arawan by Sugarfree
6. AngeeRozul and Kjwan for 2step Marv of Kjwan
ADVERTISEMENT - CONTINUE READING BELOW
BEST MUSIC VIDEO
1. "DVD-X" of Sandwich (Directed by Marie Jamora)
2. "FRAILTY'' of Urbandub (Directed by Pancho Esguerra andBluerain Media)
3. "KUNG AYAW MO NA SA AKIN" by Sugarfree (Directed by MarieJamora)
4. "LOVETEAM" of Itchyworms (Directed by Marie Jamora)
5. "PROBINSYANA" of Bamboo (Directed by Pancho Esguerra)
6. "SUNDO" of Imago (Directed by Marie Jamora)
7. "WILL YOU EVER LEARN" of Typecast (Directed by PedringLopez)