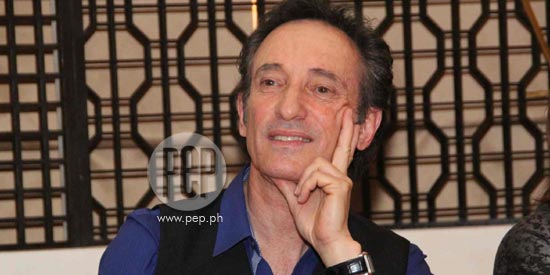 ---
For David Pomeranz, a singer who considers the Philippines as his second home, it was an easy decision for him to mount a benefit show for Yolanda victims.
The American singer-songwriter, who has performed in the Philippines countless of times already, admitted that he couldn't believe what happened to the Visayas region after it was hit by super typhoon Yolanda.
"It's seriously shocking. Shocking is the word. No words to speak about something like that," he told the Philippine media at the press conference prepared for him yesterday, November 21, at Resorts World Manila, Pasay City.
On the other hand, the international artist was happy to hear about the outpouring of support given to typhoon victims.
He said, "The next thing that one does is to do something about it, just one step at a time.
"Everyone seems to be on it, everyone seems jumped in, which is the appropriate response.
"And we see that it jumped in internationally, too. It's just terrific."
David pointed out a positive trait of Filipinos that shone amidst the tragedy.
He told the media, "I know this is not a consolation to anyone of us, but there's poetry to life.
"I'm not saying that it shouldn't have happened.
"God knows that it shouldn't have happened.
"But now that it has happened, just like you guys, you ride the poetry of it.
"You did the best you can and you make it work. That's all there is to do."
ADVERTISEMENT - CONTINUE READING BELOW
SERIES OF SHOWS. David was originally scheduled to perform in Tacloban City on November 22.
However, after the devastation of Yolanda in Samar and Leyte, David immediately made arrangements to help Filipinos affected by the natural disaster.
David pointed out, "Things change and you go with the change. I'm happy that I'm here. I'm glad to be useful."
Instead of going to Tacloban, David will perform in Surigao City on Sunday, November 24.
On November 29, David will do a benefit show titled Got to Believe at Bar 360 of Resorts World Manila. A portion of ticket proceeds will go to victims of super typhoon Yolanda.
As a special treat to ticket buyers, ETalent Entertainment (the producer of the show) will be giving David's special album: a repackaged version of Now and Forever.
This album consists of 11 tracks and four bonus intrumentals of "You're the Inspiration," "Now and Forever," "The Search is Over," and "What Matters Most."
During his stay in Manila, David will have guest appearances in radio and TV shows. These include appearing as a guest judge ("hurado") in It's Showtime from November 25-30 and being a guest singer in the 2013 Miss Earth pageant on December 7.