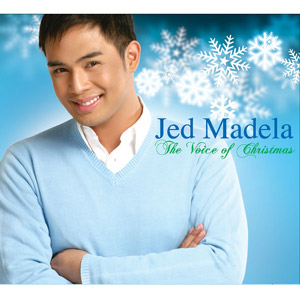 ---

Three months after he launched his third album underUniversal Records, Jed Madela's Only Human has turned Gold (and is wellon its way to Platinum). Last October 30, the overall grand champion singer ofthe 2005 World Championships of the Performing Arts (WCOPA) released anotherawesome album for the holidays. Jed Madela's first Christmas album underUniversal Records is called The Voice of Christmas.
The 13-track album contains Jed's renditions of the classicYuletide songs "Have Yourself A Merry Little Christmas," "Give Love OnChristmas Day," "It's The Most Wonderful Time Of The Year," "White Christmas,""What Are You Doing New Year's Eve," "The Christmas Song," "I'll Be Home ForChristmas," "Merry Christmas Darling," and "Sana Ngayong Pasko."
According to Jed, his Christmas album "displays theversatile side of me, it was the unusual arrangements of every piece thatdemanded me to interpret the songs with a new flavor.

"I have been so used to hearing the song "Merry Christmas Darling" in alullaby form. Mine was done in rhythm and blues...and I liked it! Also, "TheChristmas Song" has a bossa feel...the big band in "White Christmas"...but myfavorites in the album are "It's The Most Wonderful Time of the Year" and "OHoly Night" because of its classic sound," explains Jed.
The champion singer is deeply grateful to Jose Mari Chan forallowing him to record his version of the original piece, "A Perfect Christmas."
"I really took good care of his work that I didn't want the original work changed too much, as we usually do in remaking a song,"says the ASAP '07 mainstay.
ADVERTISEMENT - CONTINUE READING BELOW
Jed is also grateful to Regine Velasquez for doing a duetwith him in the Christmas album for the song "My Grown Up Christmas List."


The Voice of Christmas has 13 cuts of classic Christmas songs that younever get tired of hearing year after year as we celebrate the holidays. Jedreminds the public, "We must not forget the reason why we are celebratingChristmas...our Lord Jesus Christ, who is the Real 'Voice of Christmas.'"
The album launch of Jed Madela's first Christmas album TheVoice of Christmas will take place on the November 25 episode of ASAP'07.