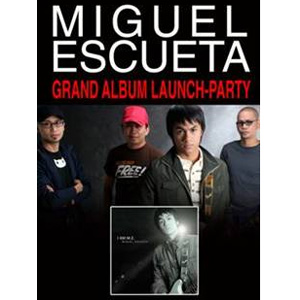 ---

Twenty-three-year-oldsinger-songwriter Miguel Escueta will hold his grand album launch partythis Friday, November 16, at the EastwoodCentral Plaza.
The pop rock singer is best remembered for being the Best New MaleRecording Artist in the 2005 Awit Awards. Getready to chill out while rockin' to your heart's delight during MCA Music's bigevent to introduce Miguel's 12-track, all-original album I AM M.E.
Start off with Miguel's carrier single "Falling Away," the songthat re-introduced him in music circles as the newest name in the pop rockscene.
Then jam with him some more as he makes your heart melt andtremble with the exciting second single "Isipin," his song that also has anarrative music video set in an outdoor restaurant. Tackling the topic ofdaydreams, it's one of the often played music videos in MYX and MTV.
Then its rock 'till you drop as Miguel enthralls the audience with hisoriginal compositions such as "Take Me There," "BalikSimula," "Close To The Edge," "Pull Through,""Live It," "Sa Pagkawala," and "Where I Stand." As youhear and see him perform, you'll certainly experience an intimate encounterwith Miguel through the songs that he himself penned.
Presented by MCA Music, Miguel Escueta's grand album launch party willtake place this Friday, November 16, at the Eastwood Central Plaza, Eastwood City at 8 p.m.