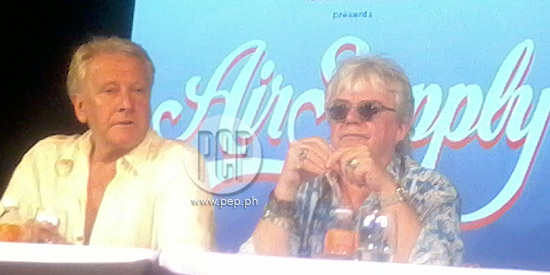 ---

There's no denying that the popular international singing duo Air Supply has a soft spot for the Philippines.

Graham Russell and Russell Hitchcock have visited the country many times and they have had several concerts here already.

Now they are back again to serenade their Pinoy fans in a concert to be held tomorrow, December 11, at the Grand Ballroom of the Solaire Resort and Casino.

During their presscon held earlier today, December 10, at the Eclipse Room of Solaire, the famous duo expressed their love for the Philippines, which is why they keep coming back.

"We've been out for a couple of weeks now touring. It's a great pleasure to be back here. It's always great to see the Philippines because we have a lot of fans here and a few friends also," said Russell.

Graham added, "Thank you for coming today. I know you've seen us so many times. We just left Australia, New Zealand and we've done so many shows there. But it's always nice to see nice friends here."

How long will they stay in the Philippines?

"We'll play tomorrow and then the next day, we go to China, Japan, and South Korea."

So, it's really a busy tour for them?

"Certainly, we don't get to go home until the 22nd of December. And we've been out touring since 18th of November."



FAVORITE SONG. Through the years, Air Supply has maintained their popularity and their songs have lasted from generation to generation.

Until now their songs can be heard over the radio such as their classic hits "Here I Am," "All Out Of Love," "Every Woman In The World," Two Less Lonely People In The World," "Making Love Out Of Nothing At All," "Even The Nights Are Better," "Now And Forever," "Goodbye," "Lost In Love," among others.

Among their songs what is their favorite track that they have recorded?

"I chose 'All Out Of Love,'" said Russell, which is also the same answer given by Graham.

How do they feel when another singer does a remake or records a new version of their song?

"I think it's a great compliment to our music and we always support when another people sing them. You know, I think any song can be interpreted in many ways," said Graham.

What can their fans expect in their upcoming concert in the Philippines?

According to Russell, "Well, you know in our shows, we always want to do our new songs. We have a new single coming out in January and we're playing that tomorrow night, which is fabulous.

"And we'll be playing two of our new songs. And we normally change the arrangements of our songs so, it's gonna be exciting."



HELPING YOLANDA VICTIMS. The members of Air Supply admitted that they were shocked when they learned about the destruction caused by super typhoon Yolanda in Eastern and Central Visayas.

They believe that their arrival in the country is very timely since it gives them the chance to help victims of Yolanda.

"We're trying to do as much as we can. We have some iTunes we brought with us that we're going to auction tomorrow night before the show. And also the merchandise that we have, we're going to donate a major portion of that to the victims, too, tomorrow night. So, we're hoping to do as much as we can do. This is just terribly devastating, so we truly want to help," said Graham.
ADVERTISEMENT - CONTINUE READING BELOW