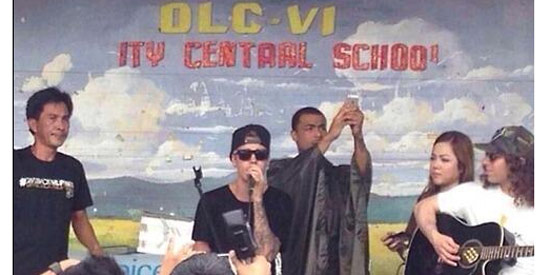 ---

Canadian pop idol Justin Bieber arrived in the Philippines without fanfare on Tuesday, December 10, 2013.

Prior to his arrival in the country, Justin performed in Perth, Australia—completing his Believe world tour that took him to over 40 countries in six continents.

This time, the 19-year-old singer did not perform in front of a jampacked venue but at a modest stage with a crowd composed mostly of families displaced by super typhoon Yolanda.

On the morning of his arrival, Justin told his 47 million followers on Twitter: "About to go perform the last #believetour show. The real last one and the most important one of the tour. #GiveBackPhilippines"

Justin's Instagram account also features some brief clips from the mini-concert.

In Tacloban, he played an acoustic set for Yolanda survivors. His lineup featured his own hits, including "Baby." He also performed a series of Christmas songs.

(Watch: Justin Bieber holds mini-concert in Tacloban)


After his mini-concert, he told Filipinos: "Keep the smiles on your faces and my prayers are with you and your families."

According to Smart Gilas coach and Sports5 head Chot Reyes, the project to bring Bieber in Manila was in collaboration with SMART, PLDT, and TV5.

The Kapatid network was the exclusive broadcaster of Justin's #GiveBackPhilippines Philippine visit.

"We were only given a few days to pull this off but somehow, PLDT, SMART and TV5 managed," revealed Coach Chot.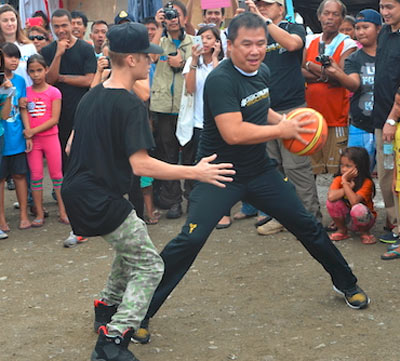 Justin Bieber played street basketball with Coach Chot Reyes


Aside from Coach Chot, TV5 executive Wilma Galvante and TV5 Chief Financial Officer Anna Bengzon went to Tacloban with Bieber's entourage, comprised of 30 people.

Photos of the international pop star hugging children, singing, dancing, and playing basketball with them circulated online along with videos and news reports courtesy of TV5 News correspondent MJ Marfori.

Justin has been raising funds for Yolanda survivors through his #GiveBackPhilippines campaign.

The singer described his Philippine stop as "the most important" one in his Believe world tour, and "the most important trip of my life."

The Kapatid Network is said to be cooking up a TV special on the pop star's brief stay in the country.

Some happy moments captured on camera included Justin embracing a little boy and him singing Christmas carols to Filipino children, all Yolanda survivors.

According to Kate Donovan, a spokeswoman for the United Nations Children's Fund (UNICEF), Justin performed "Holy Night" for the children.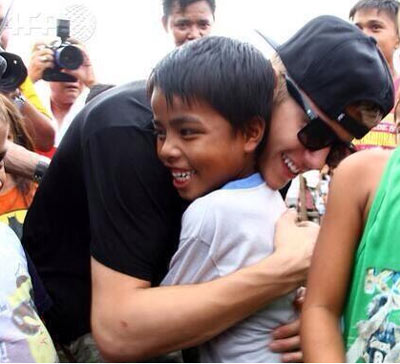 Justin Bieber hugs a young Yolanda survivor


Prior to visiting the Philippines, Justin teamed up with fundraising website Prizeo.com to hold a contest for a studio session with him.

Fans who contribute $10 or more have a chance to compete in a grand prize draw, in which the winner (and a companion) will get to hang out with their idol.

The teen singer has offered to shoulder the costs of bringing the winner and his/her friend to the United States as he records his new album in early 2014.

Aside from spearheading a fundraising activity through Prizeo.com, Justin also joined artists such as U2, Lady Gaga, Justin Timberlake, Beyonce, Eminem, Adele, and others in donating a track to a compilation album titled Songs for the Philippines. The proceeds go to the Philippine Red Cross.
ADVERTISEMENT - CONTINUE READING BELOW