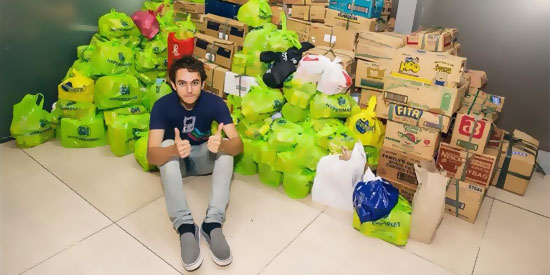 ---
DJ Zedd, a Russian-German electronic music producer, threw a two-hour fist pumping and jumping party at the SMX Convention Center last December 12.
At exactly 12 midnight, Friday the 13th, the world-renowned DJ started the night with the Ivan Gough song, "In My Mind" that set the mood for the concert party.
It was followed by some of his co-EDM (Electronic Dance Music) producers and DJ's mixes such as Avicii's "Wake Me Up," and "You Make Me," Martin Garrix's "Animals," Capital Cities' "Safe and Sound," and Icona Pop's "I Love It."
And of course, the lineup of his Moment of Clarity World Tour included songs from his Clarity album that hyped the crowd 'till dawn.
Pinoy ravers showed their ultimate party moves and sang at the top of their lungs when DJ Zedd played his smash hit, "Clarity" that had members of the crowd singing in unison.
The 24-year old DJ really made everyone stay the night with his current hits "Stay the Night," "Spectrum," and "Hourglass."
Zedd's Moment of Clarity concert tour in Manila will benefit victims of typhoon super typhoon Yolanda (international name: Haiyan). Prior to the show, Zedd posted on his Twitter account: "MANILA, listen up!!!
"The show tonight in manila is sold out! 100% of the profit goes to charity!
"I know not everyone was able to afford tickets so we held 500 tickets that we will give away in exchange for a box full of canned food!
"If you are #501 and don't get a ticket PLEASE still leave the canned food with us as we will ship it all over to the ones who need it most.
He requested, "Please bring the boxes at 6pm local time.
He ended it by saying, "CHARITY IS CLARITY."
Indeed, everyone had their moment of clarity and charity with DJ Zedd as the party lasted until around two a.m. in the morning.
ADVERTISEMENT - CONTINUE READING BELOW