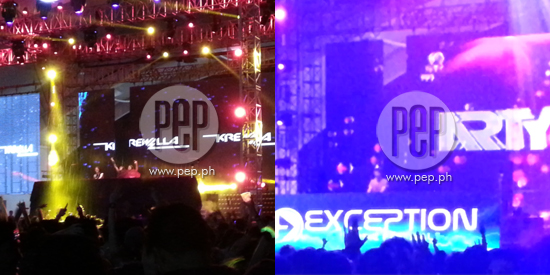 ---
Rain or shine, Filipinos definitely know how to party!
This past weekend marked the second installment of the Philippines's pioneer and biggest outdoor music festival—Exception Music Festival 2013.


Partygoers filled the open-air Globe Circuit Event Grounds last Saturday night, December 14. The concert was spearheaded by Big Fish International and presented by SMART Music and SPINNR.
The festival featured three different stages—EMF Radio Stage, Trance Music Stage, and Exception Main Stage—with 21 music producers and DJs spinning electronic dance music continously from 3:30 p.m. until the break of dawn.
DJs Inno Naguit, Keith Haw, Marxx Monterolla, Anton Lopez, Karl Ty and Werwolvz provided the beats for the EMF Radio Stage. Meanwhile Chris Reauber, John Paul Lee, Menno De Jong, Arctic Moon, Estiva, and Solarstone played for the Trance Music Stage.
Around 12 midnight, it started to rain while Russian producer and DJ Arty was in the middle of his set. The rain messed up the sound system of the concert but the 24-year-old DJ promised, "Don't worry Manila! We're going to fix this!"
Filipino concertgoers waited patiently for the sound system to be fixed so DJ Arty could finish his set. Within minutes, DJ Arty continued rocking the stage with his progessive house and trance music. Some of the songs he played that night included "Together We Are," "Grand Finale," and remixes of fellow EDM artists Calvin Harris's "Sweet Nothing," and Sebastian Ingrosso, Tommy Trash and John Martin's "Reload."
After Arty, Chicago-based electronic dance group Krewella—Jahan Yousaf, Yasmine Yousaf, and Rain Man—rocked the stage with their own flavor of dance and electronic music. The trio wanted to sing live for their Filipino fans but they were unable to do so because of the rain.
Jahan Yousaf revealed towards the end of their set, "We wanted to make a live vocal performance but we couldn't because of the rain."
ADVERTISEMENT - CONTINUE READING BELOW
Still, their Filipino fans appreciated their performances of "Alive," "We Go Down," "Live For The Night," "Killin' It," and remixes of "Imagine Dragon's "Radioactive" and Oasis's "Wonderwall."
Italian DJ Giuseppe Ottaviani closed the night with electrifying performances of upcoming singles "Magenta" and "Nothing Wrong."


Aside from Arty, Krewella and Giuseppe Ottaviani, other well-known artists who took part in Exception Music Festival 2013 were Ian Sndrz, Owens Sun, 12th Planet, Jes, Ashley Wallbridge and Dub Vision.