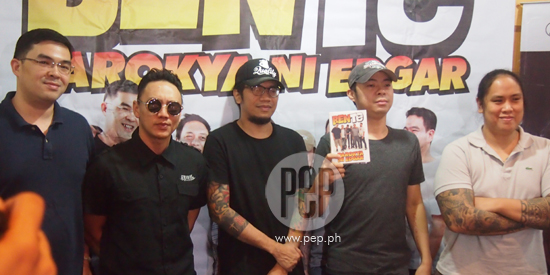 ---


Twenty years ago, a group of musicians started having after-school sessions that paved the way for the creation of one of the most enduring and creative rock bands in the local music scene.

As the band celebrates two decades in the music industry, Parokya ni Edgar launches a special album titled Bente, a 3-disc album featuring the greatest hits of the band. The compilation also includes a DVD feature narrating the history of the band.

The band members can scarcely belive that they have been in the music industry for so long.


During the December 2 launch at the Universal Record Tower in Quezon City, lead vocalist Chito Miranda clarifies, "For us, it's an achievement din na magkakasama pa rin kami up to now. We don't consider ourselves as an award-winning band or whatever."
"But the fact that we're still together working tightly as a unit who still genuinely know each other as a group and still creating music and having fun."
They might be enjoying fame and glamour as a rock band now but the group didn't become this successful without experiencing struggles and hardships.


Chito recalls, "Being together for 20 years, napagdaanan na po yata namin lahat. Dumating na yung point na muntik na kaming ma-disband. Nag-away away kami.
"Yung suntukan, naging normal na lang sa amin to a point na nagsawa na kaming magsuntukan kasi wala rin naman nangyayari."
"And the thing is, I think anything that doesn't kill you makes you stronger as a group also."
Through all the things the band has been through, the singer/rapper shares his learning from past experiences.
"What you remember is that fact that you've been together and yun yung dumidikit sa 'min… but the thing is, it's normal, and just like a video game, every level becomes harder and the thing is, you just have to deal with it and not stay and dwell on a certain problem that you face."


ADVERTISEMENT - CONTINUE READING BELOW

ALBUM FOR A CAUSE. Through their own way, the band members of Parokya ni Edgar are showing their solidarity with Yolanda typhoon victims. A portion of the proceeds from the anniversary album will be donated to typhoon victims.
Chito explains, "Actually it was just an idea we were playing around with. Well, first of all, may nagtatanong nga sa Facebook page namin na 'Ba't 20 pesos lang?'
"As individuals naman kasi, we already did our part. It's just that hindi namin pagsisigawan sa social media na 'O, nagbigay ako ng ganito, nagbigay ako ng ganyan.' It's not something you discuss, e."
"Pero with this album, we decided na, I think, not just this album, even after the launch, continual na siya hanggang nangangailangan, andito yung 20 pesos per album."
In fact, the group was able to raise P40,000 during the first night of their launch.
"Marami ka pa rin mapapainom with mineral water and food and kung ano man yung kailangan nila. So far with the sales for one night, we sold like around 1,500 DVDs and another [CDs], and the more we sold, the bigger the donation was."
The band members hope that the victims will cope and move on from the devastation caused by super typhoon Yolanda.
"I think matibay talaga kami as a group pero more than anything, we learn to adjust just like a bamboo instead of a flagpole standing up. We're more like, we sway, we go with the flow, we deal with our limitations and we handle it properly."
"We're not strong, we're normal kids. Actually, we consider ourselves as kids and we deal with it as kids also. But the thing is we deal with it together. We never said that we are strong, we just know how to deal with it."
ADVERTISEMENT - CONTINUE READING BELOW
Parokya ni Edgar's anniversary album, Bente, is now available in record bars nationwide.