Slender, tall, childlike humor, with a calming, soothing voice that lingers in your mind Dia Frampton has everything that a pop star needs to make it. She was here at the Hard Rock Café Glorietta last January 21 for an intimate concert with loyal fans.
She is known more as The Voice U.S. runner-up that lost only by a marginal lead from winner Javier Colon. She could have easily won it all. Sometimes going second isn't so bad. Our very own Jessica Sanchez followed Adam Lambert's path, both are second placers in American Idol.
In terms of music and sound, Dia is often compared to Taylor Swift. Musically, Dia seems to have more sophistication and that unspoken X Factor. She's far sexier than Swift in terms of looks and charm. She won the 2011 Reality Entertainment Weekly's 2011 "Favorite Reality Show Personality" over Michael Stagliano of Bachelor Pad.
Filipinos are especially taken by her looks given the current obsession with Koreanovelas on TV. Dia Frampton is a mestiza-half Korean and American. Her father was a DJ in Seoul, South Korea when he met her mom and settled in the U.S.
If Zooey Deschanel were taller, prettier and hotter, she would be Dia Frampton. Dia can be just as funny and charming as Deschanel in the top comedy series New Girl in ETC. When Dia banters onstage with her sister Megan, it sounds like a skit on SNL between Kristen Wiig and Maya Rudolph.
One of their improvised skits involved "ensaymada thieves" with Dia relating Meg was caught red handed putting Red Ribbon ensaymadas in her bag. The two have been making music together since their adolescent years.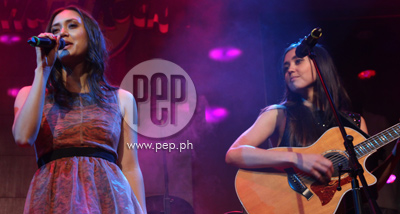 Dia Frampton performed with her sister Meg



The ease on stage and musical teamwork, together with Filipino guitarist Carlo Gimenez, come from having been a band for so long.
Frampton recently released her debut album RED to critical success. The single "Don't Kick The Chair" has a dance and upbeat pace with strong synthesizers and bass. The successful single features rapper Kid Cudi and is one of three dance songs in the album. Dia has a wide range of musical of influences ranging from Tom Petty, The Cranberries, Joni Mitchell, The Avett Brothers, Rocky Votolato, Ben Folds, Etta James, Death Cab for Cutie, and even Lady Gaga.
During their performance at Hard Rock Cafe in Makati, they sang acoustic versions of their songs. The night even highlighted Dia's keyboard playing skills with "The Broken Ones."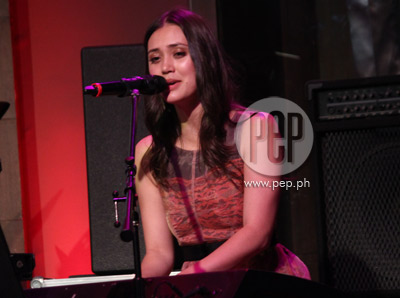 Dia Frampton on keyboards


Dia even asked two birthday celebrants on stage, one of them asked for "Setting Up Sunday," which made Dia say, "I haven't sung that song in five years." This song is from the 2006 album Something Real when their band was called Meg & Dia. Dia injected happy birthday into the chorus and hugged the two hard-core fans.
Dia also sang "Isabella, "Trapeze," and "Daniel" all from the RED album. Featured artists who worked on the album include: Foster the People, Isabella Summers from Florence & the Machine, Hodges, David H., John Mayor's talented guitar player, Kid Cudi and Blake Shelton.