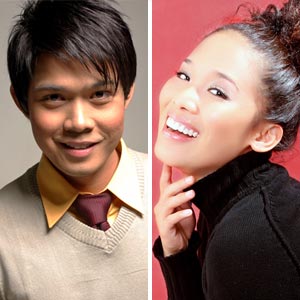 ---

Vocalist of the WorldReymond Sajor and international artist Anna Fegi topbill Musika at PangarapConcert at the College of Immaculate Conception, Cabanatuan City, NuevaEcija on November 30 at 7 p.m.


Reymond was one of the finalists in the ABC-5 singing competition PhilippineIdol. Mau Marcelo bagged the title of first Philippine Idol and she is nowpreparing to compete in Jakarta, Indonesia for the Asian Idol tilt.However, Reymond brought honor to the country when he was proclaimed as GrandChampion Vocalist of the World, when he competed in this year's World Championshipsof Performing Arts (WCOPA) in Hollywood, California, besting both male andfemale vocalists from over 50 countries.


Reymond is currently waxing his 12-track debut album under the musicaldirection of Gerard Salonga. During his days off in the recording studio, hedoes various live concerts with Christian Bautista, Sam Concepcion, AriaClemente, Raki Vega, the CompanY, Martin Nievera, among others. He is also aspokesperson for Trumpets Musicademy, World Vision Philippines, and the 2008WCOPA Team Philippines.


Anna just got back in town after playing the role of Nala in The Lion Kingin Hongkong Disneyland for nearly two years. She has been busy with herhomecoming shows with Toti Fuentes at Merks Bar Bistro in Greenbelt 3 and atthe Captain's Bar in Mandarin Hotel.


Prior to Anna's stint with Disney, she was very visible in Manila's music scenethrough inimitable concert and musical theater performances, recordings andtelevision appearances.


Musika at Pangarap Concert in Cabanatuan City aims to raise funds forthe renovation of San Antonio Parish. The musical event features NaldyRodriguez as musical director, CIC Chorale, San Antonio String Ensemble, andthe Angels of the Sacred Heart Parish String Ensemble.


For ticket inquiries, contact (044) 4863739 or 0916-4063686.
ADVERTISEMENT - CONTINUE READING BELOW