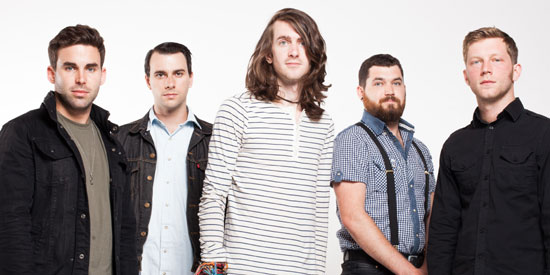 ---

The concert every pop-punk fan has been talking about for weeks is drawing near! PULP Live World's staging of Mayday Parade Live in Manila will definitely push through this Saturday, March 8, 2014 at Skydome, SM City North EDSA, Quezon City.

The American worldwide pop-punk sensations from Tallahassee, Florida is set to play in their biggest solo show in our shores to date in support of their fourth full-length album Monsters in the Closet which is distributed locally by PULP Live Records. The band will be performing songs from their latest album, including their latest hits "Ghosts" and "Girls" alongside fan favorites such as "Stay," "Oh Well Oh Well," "Miserable at Best" and "Jamie All Over," among many others.

Mayday Parade is currently comprised of Brooks Betts (rhythm guitar), Jake Bundrick (drums), Alex Garcia (lead guitar), Jeremy Lenzo (bass) and charismatic lead vocalist Derek Sanders.

They first made their breakthrough in 2006 when their self-released debut EP Tales Told by Dead Friends sold 50,000 copies in the US without any major label support. Since then Mayday Parade has released one EP (Valdosta in 2011) and four albums: A Lesson in Romantics (2007, which peaked at Number 8 and Number 31 on Billboard's Top Heatseekers and Independent Albums charts, respectively), Anywhere but Here (2009, which peaked at Number 31 on the Billboard 200), their self-titled album in 2011 (which peaked at Number 12, 2 and 84 on Billboard's Top 200, Independent Albums and Australia charts, respectively) and Monsters in the Closet (which peaked at Numbers 10 and 2 on Billboard's Top 200 and Independent Albums charts, respectively).

The band has toured the world with some of the biggest young names such as Plain White T's, A Rocket to the Moon, The Academy Is…, We Are the In Crowd and All Time Low.

Mayday Parade has also become a staple headliner in a number of the world's biggest festivals (Fall Ball Tour, Slam Dunk Festival, Take Action, Warped Tour and Glamour Kills Tour, among many others). The band was also one of the most-loved headliners in PULP Live World's inaugural one-of-a-kind indoor pop-punk festival Bazooka Rocks last September 20, 2012 alongside fellow international acts Avastera, The Wonder Years, A Skylit Drive, Marianas Trench, The Maine and The Pretty Reckless.

In a recent interview with PULP Magazine, Mayday Parade lead vocalist Derek Sanders professed his love for their Filipino fans. "I'm really not sure [I can accurately put it into words], but we are truly thankful for it," says Derek. "Each time we've come over it's been even better than the time before. Whatever the connection is, [I feel that] it is genuine and I hope we keep coming back for years and years to come."

Mayday Parade Live in Manila is presented by PULP Live World and will be held this March 8, 2014 (Saturday) at Skydome, SM City North EDSA, Quezon City. Doors will open 6PM while the party starts at 8PM. Tickets are priced at P3,000 (VIP Pit) and P2,200 (Bleachers) subject to ticketing service charges available exclusively at www.smtickets.com and all SM Tickets outlets nationwide.

You can e-mail royalty@pulpliveworld.com for PULP Royalty privileges. Please check out www.pulpmagazinelive.com, www.pulpliveworld.com or call the PULP Live World HQ at Tel. No. 727-4957 for more details. You can also buy a copy of Monsters in the Closet from the PULP Live World HQ or any Astrovision outlet nationwide to avail of a special Mayday Parade Dollar Bill that will entitle you to P500 off on your purchase of a ticket to the show.
ADVERTISEMENT - CONTINUE READING BELOW