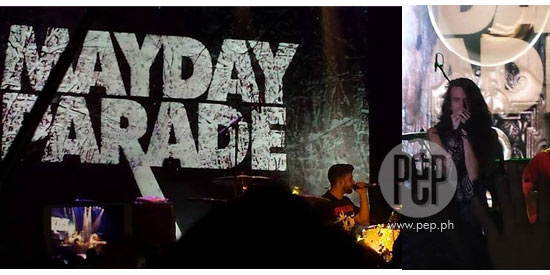 ---
Filipino fans of Mayday Parade were treated to an energetic concert when they trooped to SM Skydome, North Edsa for the band's fourth gig here in the Philippines.

The pop-punk band first performed in the Philippines in 2011 at the Meralco Theater, followed by their show at the 1st Bazooka Rocks Indoor Rock Festival in 2012. Last year, the five-man band participated in the Circuit Fest at the Globe Circuit Events Ground in Makati.
The show started at around 8:15 pm with the opening song "Ghosts," from their newest album Monsters in the Closet. Lead vocalist Derek Sanders did a lot of headbanging and he kept jumping up and down the stage as fans shouted constantly. Halfway through the song, Derek asked the crowd: "How you doin' Manila?"

He then asked the audience to clap along as he motioned for the crowd to sing the lyrics with him.

Pinoy fans eagerly followed the directions of Derek while listening to Brooks Betts (rhythm guitar), Jake Bundrick (drums), Alex Garcia (lead guitar), and Jeremy Lenzo (bass).

The American band from Tallahassee, Florida did not disappoint the crowd when they performed hit songs, "Jamie All Over," "12 Through 15," "Black Cat," and more.

Things became a bit relaxed when lead vocalist Derek Sanders paused for a while to greet some birthday celebrants and gave acknowledgement to Vernon Go and Happee Sy of PULP.
Derek Sanders then took his place behind the keyboards to perform the sad song "Miserable at Best." Upon hearing fans sing along with him, the vocalist praised Pinoys by saying, "That was absolutely beautiful. Thank you so, so much."

This was followed by a couple more slow songs "Stay" and "Hold on to Me."

At one point, Derek said he heard about The Maine's recent concert here in the Philippines. He then teased the crowd by saying, "I'm not yet sure but hold on to your tickets." Will Mayday Parade perform with The Maine in the future? Your guess is as good as mine.

Mayday Parade continued firing up the crowd with the songs, "Kids in Love", "Oh Well, Oh Well" and "Jersey."

The band made an exit but fans repeatedly chanted, "One more song! One more song!"

Eventually, the stage lights were turned up again as the band performed "I'd Hate To Be You when People Find Out What This Song is About" to wrap up the show that ended at past 10 in the evening.
ADVERTISEMENT - CONTINUE READING BELOW