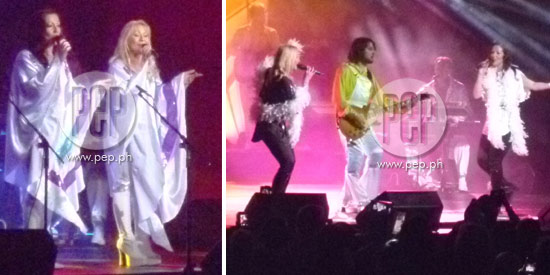 ---
The legendary Swedish pop group ABBA might have disbanded but their legacy lives on.

The group—composed of Agnetha Faltskog, Bjorn Ulvaeus, Benny Andersson and Anni-Frid Lyngstad—was formed by in 1972 and broke into big time after winning in the 1974 Grand Prix at the Eurovision Song Festival for the song "Waterloo." More hits followed until the group broke up in 1982.
Their songs have remained popular and the timeless appeal of the music of this much-loved foursome was further immortalized in the successful stage musical Mamma Mia! Later, it was adapted for the big screen, starring a singing Meryl Streep and Pierce Brosnan, no less.
Along comes Abbamania, the acclaimed ABBA tribute group from Europe, the closest thing to a true ABBA experience in concert.

Last March 22, the group performed at the Plenary Hall of the Philippine International Convention Center, CCP Complex in Pasay City. The day before, they entertained audiences at Solaire Resort & Casino.
Abbamania has performed in sold out concerts in Denmark, England, Portugal, Scotland, Belgium, France, Ireland, Luxembourg, Russia, Germany, South America and as well as the Philippines. Abbamania, formed in 1998 in the United Kingdom, is recognized as one of the most authentic ABBA tribute bands in the world.
Its current lineup is composed of Ewa Scott (as Agnetta), a classically trained vocalist from Poland; Sharon Fehlberg (as Anni-Frid) an actress, accomplished singer and songwriter from the UK (she joined Abbamania in 2012); the multi-instrumentalist and musical virtuoso Steven Galert (as Benny), the musical director of Abbamania; and Adam Robertson (as Bjorn), another widely successful multi-instrumentalist from the UK. All hold either a degree or master's degree in music and were drawn together by their mutual love of ABBA's music.
All four were backed up by Gareth Whitehead (guitarist) from UK; and Bryan Smith (guitarist) and Lee Brady (drummer), both from Scotland, plus two unnamed female background vocalists. All (except Ewa who performed with Abbamania in the country last April 2013) are first time performers in the Philippines.
ADVERTISEMENT - CONTINUE READING BELOW
The one and a half hour, 20-song concert was pure ABBA nostalgia, with lavish and glittery 1970s spangled costumes and boots, party-like atmosphere and close-to-perfect ABBA-style showmanship and dance routines.

The very enthusiastic audience—mostly composed of people in their fifties and sixties—was singing, clapping and waving their arms, with abandon-free gusto, to songs like "Waterloo," "Honey Honey," "Chiquitita," "The Name of the Game," the raunchy "Gimme Gimme Gimme (A Man After Midnight)," "Thank You For The Music," the romantic "Fernando," "Knowing Me Knowing You," "Ring, Ring," "Why Don't You Give Me a Call?,""Voulez Vous," "Super Trouper," the haunting "The Winner Takes It All" and "Mamma Mia!"
The group performed "I Have A Dream" with the opening act OB Montessori Choir while Steven Galert ("Does Your Mother Know"), Ewa Scott ("Money, Money, Money") and Sharon Fehlberg ("Take A Chance On Me") did some solo numbers. The crowd also leapt to their feet and even danced in the aisles to "Dancing Queen" and "S.O.S." Their encore featured a medley of eight of the aforementioned songs.

Abbamania offers a nostalgic trip back to the era of '70s disco. This is as authentic as an ABBA concert as you will ever get. True credit must be given to the performers as they revived, in a respectful and enjoyable way, special memories of when ABBA ruled the airwaves in the 1970s. They're "the-next-best-thing-to-watching-the real-Abba-perform-together-again."
A production of Viva Live Inc. and Redstone Media Productions, AbbaMania will hold another performance at the Baguio Country Club on March 25, Waterfront Cebu City Hotel and Casino on March 27, the L.L. Macias Sports & Cultural Center in Dumaguete City on March 28, SMX Convention Center in Davao City on March 29, and on March 30 at the Lagao Gym in General Santos City.