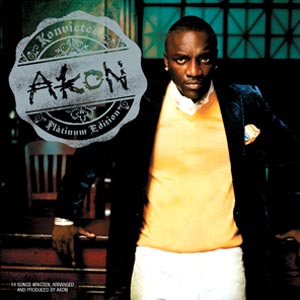 ---

Rumors have reached PEP (Philippine Entertainment Portal) that the concert of the international hip-hop artist has been cancelledbecause of the coup attempt that took place in Makati earlier today.
But PEP proved this rumor untrue. In fact, a few hoursbefore his concert at the Araneta Coliseum tonight, November 29, Akon faced themedia for a brief talk at the Discovery Suites in Ortigas Center.
During the meet-and-greet, Akon was also given a platinumaward for his album Konvicted by MCA Music while The Philippine Hip-HopAwards acknowledged him as the International Artist of the Year for 2008.
Akon popularized the hit songs like "Smack That," "Don'tMatter," "I Wanna Love You," and his self-composed single "Sorry, Blame It OnMe." The last song was actually one ofthe bonus tracks that was included in the Platinum Edition of the originally 15-trackalbum.
In this album, Akon collaborated with prominent U.S. musicartists including Gwen Stefani who sang with Akon in "Sweet Escape," and Eminemwho showed his aggressive rhymes in the first single titled "Smack That." Akon also did a song with fellow hip-hopartists like Snoop Dogg for the sexy ditty "I Wanna Love You," as well as BoneThugs and Harmony for the song "I Tried."
During the press conference, Akon humbly said that he hasworked with a number of famous music artists in the United States buthe would be glad to collaborate with Beyoncé in his future projects. Beyoncé also visited the country earlierthis month.
The international artist is also open to the idea of workingwith Filipino hip-hop artists in the future.
ADVERTISEMENT - CONTINUE READING BELOW
Meanwhile, PEP asked one of Akon's public relations officersto confirm if Akon will enter the Pinoy Big Brother house. The PR officer replied, "Hindi pa natinalam. Malay natin, baka bukas..."
But before his grand entrance in the closely monitoredhouse, feel the smooth groovin', movin' and singin' as Akon performs his tophits for viewers tonight at the Araneta Coliseum.