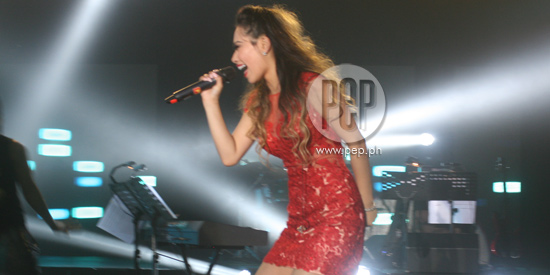 ---
To mark its first anniversary, Solaire Resort and Casino celebrated by bringing together well-loved Philippine and American singing champions.

American Idol season 11 runner-up Jessica Sanchez led the performers who serenaded, danced and performed for an enthusiastic crowd at Solaire's Grand Ballroom last March 16, 2014.

Pinoy singing champs that night included Erik Santos, the first Grand Champion of ABS-CBN's Star In A Million; Christian Bautista, Star In A Million 2003 finalist; Mark Bautista, a grand finalist in GMA-7's Star for a Night; Sheryn Regis, Star in A Million 2003 runner-up; Klarisse de Guzman, The Voice of the Philippines Season 1 Runner-Up; and Morisette Amon, runner-up in TV5's Star Factor.

Proceeds of the grand anniversary concert will go to the victims of supertyphoon Yolanda.

The two-hour celebration started at 9:00 p.m. with the Philippine Champions together on stage singing Icona Pop's "All Night" while the G-Force Dancers grooved to the music.
After the song, the champions described one of the milestones achieved by Solaire. This included hosting and being the official residence of the 2013 Miss World Philippines pageant.

Christian Bautista, Mark Bautista and Eric Santos then belted out a medley of OPM love songs while handing red roses to a few lucky and thrilled female audience members. The three sang Ryan Cayabyab's "Araw-Gabi," "Paraisong Parisukat," "Tuwing Umuulan at Kapiling Ka" and Raul Mitra's Paano Na Kaya.

Klarisse de Guzman followed with a stirring rendition of The BeeGees' "To Love Somebody" while audiences sang along with the chorus.

Mark Bautista returned on stage to sing a medley of the classics: "Love is a Many Splendored Thing," "An Affair To Remember," "Kiss The Day Goodbye" as well as "Love Story, Where Do I Begin."

The mood immediately changed when Morisette Amon strutted out on stage with an upbeat performance of Beyonce's "Love On Top."

The grand anniversary concert also featured a sexy Christine Reyes dancing to Lady Gaga's "Applause" with the G-Force Dancers.

After the dance number, all three female champions Klarisse, Sheryn and Morisette returned on stage and gave a powerful rendition of Barry Manilow's "Somewhere Down The Road" and Leonard Bernstein's "Somewhere."

When it was Christian Bautista's turn to sing on stage, he jokingly quipped, "How do you follow that? I don't know I'm very nervous now...They're too good."

He held up his own though by singing a smooth and gentle version of Charlie Chaplin's song "Smile" and Frank Sinatra's classic "Come Fly With Me."

Belter Sheryn Regis followed with a seemingly effortless rendition of her hit song "Come On In Out of The Rain." She also sang "Maybe (There'll Be No Falling Stars This Time Around)" and Diana Ross' "Every Time You Touch Me."

Erik Santos' heartfelt voice filled the Ballroom when he sang a medley of "Maging Sino Ka Man," Joey Albert's "Iisa Pa Lamang," George Canseco's "Ikaw," Ernie dela Peña's "May Bukas Pa and Lupa." He also sang "Sapagkat Ang Diyos Ay Pag-Ibig" at "Muling Buksan ang Puso."

After the performance of the Philippine Champions, they thanked the band, the back-up singers and dancers, including "brilliant musical director" Marvin Querido.

They also thanked the visionaries of Solaire namely Enrique Razon Jr. and the resort's efforts to help the victims of supertyphoon Yolanda via the Solaire Cares project.

To end their segment the Champions gave a memorable interpretation of Journey's "Don't Stop Believing."


JESSICA SANCHEZ RETURNS. After the Philippine Champions, American Idol finalist Jessica Sanchez came out with a sexy and punchy interpretation of Pharell Williams' "Happy."

She channeled Beyonce when she sang "Listen," much to the delight of her mostly young fans.

Her repertoire also included a song that complemented her heavy, husky and sultry voice, the classic love song "At Last."

Jessica then asked the audience if they remembered her singing in Glee. The audience responded with an excited scream.

"This next song I'm singing is written and produced by one of my closest friends, Zedd. For this song, you guys have to sing and dance with me."

Jessica sang "Clarity" as she encouraged the audience to stand up and dance.

Jojo Alejar and couple Kris Lawrence and Katrina Halili were among the celebrities spotted dancing and singing at the venue that night.

After the song, Sanchez expressed her gratitude to the receptive audience.

"Thank you so much..I love you guys. I love you guys, thank you so much."

She also sang "Plastic Roses," a song included in her debut album that she claims she never performed live before.

"Ne Yo brought [the song] to me literally like forty minutes. [He] just handed me a piece of paper and said you need to record this..I fell in love with it."

Her fans yelled "We love you Jessica!" in unison as she performed the song.

When she sang "Lead Me Home," she described it as the latest single she released.

"This song is very special to me…this was the last single I released and all the proceeds went to the Yolanda victims. I love the Filipino people. In any way that I can help, I love to always help. That's why I'm so happy to hear that Solaire is giving the proceeds to Yolanda victims…thank you so much Solaire."

She also introduced a surprise guest, fellow American Idol contestant and fourth runner up Hollie Cavanagh. Together, they performed "When You Believe."

Jessica described the British singer as a friend "somebody my age, somebody I love" before Hollie sang her own solo number, "One Night Only."

This was followed by Jessica's performance of "Tonight" and Beyonce's "Sweet Dreams." Her final number was the song "I Will Always Love You."

The Philippine Champions and the American Idol finalists capped the night by singing Solaire's theme song all together on stage.


ADVERTISEMENT - CONTINUE READING BELOW