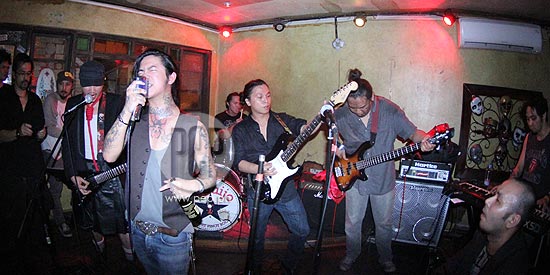 ---

How would you like to listen to an album offering "an explosion of goodness"?


This was how Mr. Bones, the front man of Mr. Bones and the Boneyard Circus, described their second album titled Great Fall Onto Madness.
GREAT FALL ONTO MADNESS. PEP.ph (Philippine Entertainment Portal) was able to interview the band during their album launch held at Saguijo, Makati City last March 13.


Their much-awaited sophomore album, The Great Fall Onto Madness, showcases the band's creative madness to an even greater degree. It includes infectious tracks such as "Ghost Train," which has already reached the number one spot on Rakista Radio.
The Boneyard Circus' sophomore album is said to be more exciting than their first album Horror and Madness.
"The first one was a gimmick. This one, this is the album," Mr. Bones explained.
"Technically our first album as a band."
He considers this album as something very personal to him, "It's mature, it's personal, very personal that's why it's called the Great Fall Onto Madness."
The band members learned a lot while creating this album for the past two years.


Bones explained, "It took us two years. It could have been done earlier but we just had a lot of band stuff but it taught us a lot."
Mr. Bones and the Boneyard Circus is known for their poetic lyrics, set to a potent concoction of theatrics and drama; heavy metal angst infused with classical sensibilities; the head-on collision of brooding gothic melancholy and frenzied psycho-billy flair; gritty rock-and-roll loaded with contagious and catchy riffs; plus a touch of sweaty industrial steam-punk.
These are the ingredients that make up the explosive potion of their music.
The eight piece band consists of Bones Frankenstein on vocals, Lipstick on guitars, Doc Chan on guitars, Rubbeface on bass, Wolf on keys, Beast on drums, Jester slamming percs, and DJ Xombie on technology.
ADVERTISEMENT - CONTINUE READING BELOW
With their kind of music, was there a time when they felt afraid that Filipinos would not embrace it?
"Yes, we were ready for that! We were ready from the very beginning," admitted Bones.
Boneyard Circus' Ax man and sound master, Juni Devecais aka Lipstick added, "If you love something, that doesn't matter.
"We love our music so it doesn't matter.
"We felt that too and asked how it will be received. I think what was missing at that time was that people needed something different, and we kinda gave that.
"So to entertain, that was our goal."
To their surprise, fans of indie music embraced their band and supported them. Apart from their amazing song, Boneyard Circus also come up with theatrical music videos that were inspired by Japanese horror flicks.


But how do they come up with their videos?
Juni replied, "Those are all friends… Friends with ideas."
He recalled one of the first videos they made, Ghost Train, which they consider a do-it-yourself video.
"We fixed everything ourselves that was a DIY thing," says Juni.
Watch "Ghost Train" here.
"But our last video Crooked Faces took a lot of research from some friends of John Joe."


INFLUENCED BY JAPANESE HORROR. Crooked Faces is the fourth official video release for Mr. Bones and The Boneyard Circus. It can be considered a testament to their love of horror films, which is a key part of their aesthetic.
It is rare that a truly unsettling video comes out of this country, and Crooked Faces is as unsettling as it gets.
Xombie, the band's DJ, explained the stories behind the music videos, "We took the J horror [Japanese horror] the biggest influence is Tetsuo: The Iron Man which is a cyberpunk horror."
Watch "Crooked Faces" here.

SEVEN VERSIONS IN TWO YEARS. The band revealed that this is the seventh version of their album, which is why it took them two years to make the album available in the market.
ADVERTISEMENT - CONTINUE READING BELOW
"The album had seven versions, at least seven," Juni admitted.
Bones added: "He gave me the first copy. I said, 'Juni, this is amazing.' And he was like, 'Oh yeah! That's the rough one.'
"Now when I listen to it in my car its bass, it's crisp, you can actually understand what we're saying.
"And it's not all too loud and we get a lot of gypsy, theater and more of circus, rock opera."
When asked how they are different from other indie bands, Xombie pointed out: "The quality of the production for audio files like in heir of the first album, indie bands would have that mono sound pa rin now we have that it's nice to put on headphones now because there are 8 elements so it's so much better.
"That's why it took two years and six months of just editing."
WHAT'S NEXT FOR THE CIRCUS? When asked about their upcoming plans. Mr. Bones revealed that they are halfway done with their third album.


Juni also disclosed that there are plans to produce an EP [Extended Play] album that will cover songs from their previous albums.
"Before the third one, we are doing an EP of some of the songs from the first and the second [album] with all gypsy and rock acoustic there's gonna be one song there that is the introduction of the third [album].
"The third's gonna be a bit happier, funnier, it's soothing," said Juni.
Apart from the EP and their third album the band revealed about their upcoming music video and a digital album launch that will take place soon.