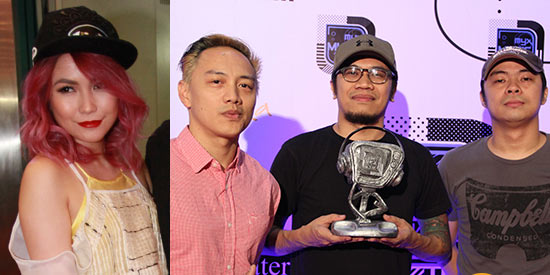 ---

Every year, Myx selects one mover and shaker of local music scene that they deem "historically groundbreaking" to receive the Myx Magna Award.

For the 2014 edition of the Myx Music Awards, the recognition was given to a group that has brought a whole new, hilarious flavor to Philippine sound.

The award was given to a band that celebrated twenty years of friendship, humor, and good music: Parokya ni Edgar.

The Magna Award is given to an icon who has "shaped the image and the sound of music, not only in the Philippines, but also in countries far beyond our shores. This awardee stands as concrete proof of what a Filipino musician can be."

In true Parokya fashion, eight friends and pioneers of band members Chito Miranda, Buwi Meneses, Gab Chee Kee, Darius Semana, Dindin Moreno and Vinci Montaner gathered on stage around a plastic table and monobloc chairs to share a pitcher and snacks.

Among those present at the table were Rico Blanco, Gloc-9, Miggy Chavez, Yeng Constantino, Barbie Almalbis, Gabby Alipe, Ebe Dancel, and Raimund Marasigan. They performed six renditions of Parokya ni Edgar's famous songs, "Buloy", "Harana", "Pangarap Lang Kita", "Halaga", "The Yes Yes Show", and "Inuman Na," which aptly capped off the performance when the members of Parokya ni Edgar stepped on stage to accept the title.

(Watch: Yeng Constantino, Rico Blanco, Gloc-9 and other OPM artists pay tribute to Parokya ni Edgar)


Parokya ni Edgar vocalist Chito Miranda found himself speechless by all of this. "Akala ko patay na kami, e," he quipped when MYX Channel Head Andre Allan
Alvarez presented him with the award.

In his Instagram account, Chito was able to express his gratitude for the people who allowed them to achieve this milestone.

He posted a photo of two trophies from Myx: Favorite Group Winner and the Magna Award.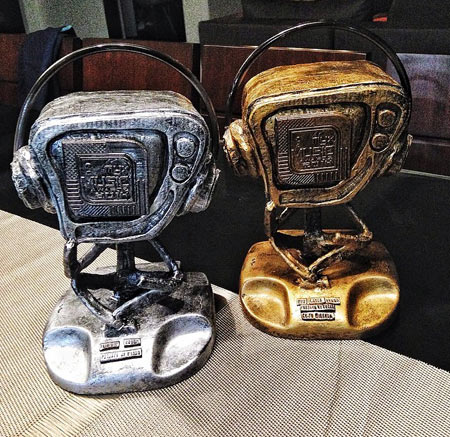 From Instagram account of Chito Miranda


He posted this caption: "Salamat sa Myx for giving us the Myx Magna Award.
"Sobrang salamat talaga.

"Salamat sa tribute.

"Salamat @raymsmercygun @ebedancel @udubgab and Mrs.Barbie Honasan, @yengconstantino @mggykills @glocdash9 and @ricoblanco100 :) Thank you for singing our songs better than we could ever perform them. (Sorry @iyavillania kung umakyat kami agad sa stage. Hinila kasi kami ni @ebedancel habang kumakanta sila kaya akala namin kelangan na namin umakyat hehe!)

"Salamat naman sa lahat ng bumoto for Parokya bilang Favorite Group. Salamat sa suporta at pagmamahal. Kagagawan nyo 'to. Salamat!

"Salamat sa lahat ng members ng Parokya Facebook FUNpage!!! Buti nasuhulan namin kayo bumoto. Hahahaha!

"Salamat sa lahat ng patuloy na sumusuporta sa Musikang Pinoy!"


ADVERTISEMENT - CONTINUE READING BELOW
Kim Chiu bagged the award for Favorite Celebrity Guest Appearance in a Music Video for "Discolamon" by Banda ni Kleggy.

In her Instagram account, she shared a photo with the following caption: "thank you #myxmusicawards!:) congrats sa banda ni kleggy!!!👍😉 thanks for making me part of your music video "DISCOLAMON"😁😁😁 salamat kean!:) and to all my supporters and friends na walang sawa and walang kapagodan bumoto sa MYX!!☺️ maraming maraming maraming salamat po sa inyo!😁 love u all!!:) appreciate all your efforts!!!💗"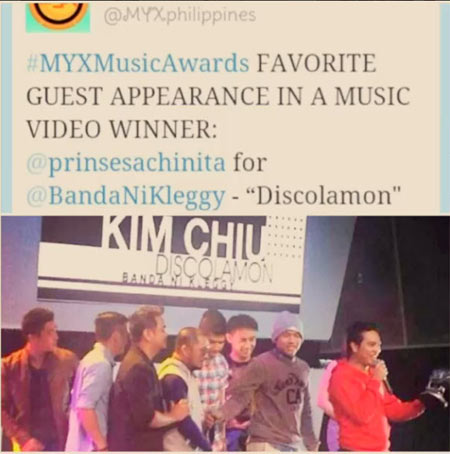 From Instagram account of Kim Chiu



The night of the MYX Music Awards was also one to honor artists, groups, and music video directors who made an impact in the local scene over the past year.


Here is the complete list of winners from the MYX Music Awards night, which was held last Wednesday (March 26, 2014):

Favorite Music Video: "Magda" by Gloc9 feat. Rico Blanco
Favorite Artist: Sarah Geronimo
Magna Awardee: Parokya ni Edgar
Favorite Female Artist: Yeng Constantino
Favorite Male Artist: Bamboo
Favorite Group Winner: Parokya ni Edgar
Favorite Celebrity Guest Appearance in a Music Video: Kim Chiu for "Discolamon" by Banda ni Kleggy
Favorite New Artist: KZ Tandingan
Favorite MYX Celebrity VJ: Abra
Favorite Mellow Video: "Magkabilang Mundo" by Jireh Lim
Favorite Rock Video: "Carousel" by Bamboo
Favorite Urban Video: "Magda" by Gloc9 feat. Rico Blanco
Favorite Remake: "It Take a Man and a Woman" by Sarah Geronimo
Favorite Media Soundtrack: "Carousel" by Bamboo
Favorite Collaboration: "Magda" by Gloc 9 feat. Rico Blanco
Favorite Song: "Magda" by Gloc9 feat. Rico Blanco
Favorite International Video: Roar by Katy Perry
Favorite K-POP Video: "Wolf" by Exo