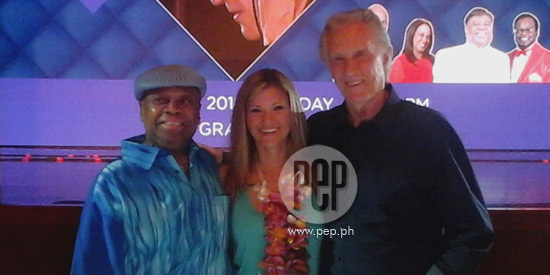 ---
Revisit golden times by joining Bill Medley of the Righteous Brothers and Sonny Turner of the Platters this Friday night, May 9. These musical giants will be performing for a one-night-only concert at the Solaire Resort and Casino so don't miss out on reminiscing their classic songs and vintage hits.

Bill Medley is one half of the Righteous Brothers. He is known for hits such as "You've Lost That Lovin' Feeling," sung by amorous fighter pilots in Top Gun, "(I've Had) The Time of My Life", known for the iconic move in the movie Dirty Dancing and "Unchained Melody," used in the unforgettable clay shaping scene in Ghost.

This marks the first time for Medley to visit the Philippines. He observes, "Filipino singers are too good. They're the best singers, even when they come to Vegas, most groups are just the best in the world… People have been absolutely wonderful to us, very beautiful and so I'm real thrilled to be here."
ADVERTISEMENT - CONTINUE READING BELOW

Medley is accompanied by his 27-year-old daughter McKenna who's been performing on stage with him since she was about five years old. With the other Righteous Brother, Bobby Hatfield, having passed on, she picks up several of his singing parts. It's also her first time on Philippine shores but she's had a taste of Filipino culture on the airplane. "I kept ordering Filipino food, not knowing what it was… I'm a foodie too so I love travelling, I love whole different cultures, whenever I'm in a place, I have to try it all."

Sonny Turner describes himself as "the last remaining member of the actual Platters that recorded hits." The Platters are a successful vocal rock and roll group of the late 1950s with memorable hits including "Twilight Time," "Smoke Gets In Your Eyes," and "The Great Pretender." Their song "Only You" is used in the recent comedy film Last Vegas.

Turner is no stranger to the Philippines as he has set foot in Cebu, Mindanao and even Baguio but he claims, to much mirth, that his favorite place would be "Right now is where I am, in this fabulous hotel."

He also echoes Medley's sentiments about the "warmth and friendliness and acceptance" of Filipinos. Turner gushes, "Filipino performers and musicians and artists are excellent, I mean they're fabulous." He recalls that when the Platters first arrived in the Philippines, they were greeted at the airport by "a group of Filipino singers mimicking the Platters and we thought that they were playing our records but it was actually the singers, live performing. Incredible, it was a wonderful surprise."
ADVERTISEMENT - CONTINUE READING BELOW

Bill Medley, his daughter McKenna and Sonny Turner will be performing for one night only. They will be singing old favorites, several new songs, and even singles requested by the crowd. They don't mix up the winning formula much as Turner explains that "The people want to hear what made you famous."

Medley admits, "I've gone to shows to see some of my favorite people that I was raised on and they didn't do their hits or just did do one or two and it's extremely disappointing." McKenna does says that her dad is "a surprise guy. That's the fun of being on stage with him. You never know what to expect. He'll always do the hits but then the other stuff can kind of vary, depending on mood and stuff."

When asked what songs are they will never, ever get tired of singing, Turner jokingly answers: "The money songs."

Medley turns serious when he says, "You walk out on stage and [sing a line from "You've Lost That Lovin' Feeling"] the audience, they kind of light up. They make you feel like you're 25 years old again…"

Turner adds, "It's like a spiritual bond, awakening, when you can be very tired from travelling… and all of a sudden, the necessary energy comes back to you and you are re-ignited, stimulated… It's a good feeling. We enjoy that. That's what keeps us going." Medley finishes by pointing out, "If it wasn't [for] the audience, we couldn't do it, we wouldn't do it and they keep you feeling young."
ADVERTISEMENT - CONTINUE READING BELOW

Now that is testament that their music is truly timeless. Watch Bill Medley and the Platters invade Manila on May 9, 2014 at the Solaire Resort and Casino.