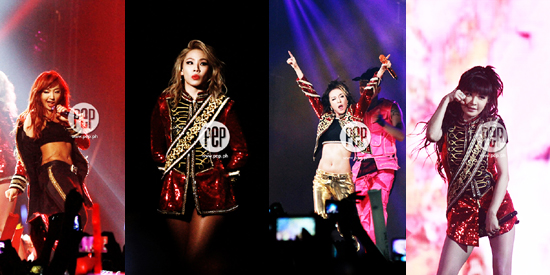 ---
Sandara Park made a memorable comeback to the Philippines when she joined her fellow 2NE1 members in the Manila leg of their All or Nothing tour.

The four-member Korean pop idol group performed energetic production numbers during their two-hours and thirty-minute concert last May 17 at Mall of Asia Arena.
Dubbed as the "Fearsome Foursome," each member exudes a different kind of sexy charm: Park Bom is sweet and chic, Dara is cute and makulit, Minzy is hip and cool, while CL is clearly the fierce queen bee.
Known for their powerful songs and straightforward lyrics, 2NE1 chose compositions that depicted love and femininity. In fact, the songs could be grouped into different stages of love namely encouragement, rejection, confession, and moving on.
Stage One: Encouragement. The K-pop group 2NE1 started the concert with tracks that depict girl power and confidence. They kicked off with their current promotional song "Crush," followed by a remix version of their debut song "Fire."
ADVERTISEMENT - CONTINUE READING BELOW
Wearing costumes that could be described as a cross between soldiers and majorettes, the girls showed off their strong female side through their songs "Pretty Boy," "Don't Stop the Music," and "Clap Your Hands."
Stage Two: Rejection. The2NE1 members then changed into all-white ensembles for another set of performances. Bom showed off her elegance through a mini-dress that's fit for a modern day empress, CL rocked her black and white fur coat, Dara wore her signature black hat, while Minzy looked a bit more conservative by wearing pants and a top with a shoelace-styled neckline.
The group sang "Missing You" during an aerial lift, with the LED background adding to the overall feeling of despair. The depicted images set in a deserted castle showed the transition from spring to fall to winter.
The group performed songs about losing love and longing for a lover. These include "If I Were You," an unplugged version of "Comeback Home," and finally ending the second set with "Ugly" on a note lower than usual.
ADVERTISEMENT - CONTINUE READING BELOW
"Di ba, minsan nararamdaman natin na pangit tayo? Pero tandaan mo, lahat tayo nararamdaman naman 'yan paminsan-minsan," confesses Dara, as a way of assuring fans that this is just a phase that everyone needs to overcome.
Stage Three: Confession. After an experimental AVP was shown on the big screen, the girls came out wearing colourful retro-style clothing. The songs played discussed about confessions, proving that in this era women can boldly confess their feelings to the man they love.
Even while wearing bubbly outfits, 2NE1 successfully showcased the femme fatale in them. The girls took the chance to seduce Sam Milby, Joross Gamboa, Ram of G-Force Stallions and Jason Abalos while singing "I Love You."

Afterwards, Dara implied that the four lucky men made the night even hotter.
Park Bom then asked Pinoys: "Do you love me?" The crowd responded with a resounding "Yes," to which she replies "I love you, too." She then proceeded to render songs about confessing one's feelings, namely "Do You Love Me?" and "Gotta Be You."
ADVERTISEMENT - CONTINUE READING BELOW
Stage Four: Moving on.The club party vibe heightened as the girls ended their series of love stages with songs about moving on and being a "glamorous solo."
CL came out wearing a pirate-inspired outfit as she performed "The Baddest Female" and "MTBD" solo onstage. The group eventually joined her when she performed "Scream," a rock version of "I Don't Care," and finally "Go Away," which all talk about an ex-lover wanting to come back but is no longer welcome in the other person's life.
CL then asked Filipinos to help the group out during their last song, "I Am The Best," while they rode a motorcycle on stage with a moving road flashed in the background.
Encore. Just as the concert wrapped up, fans started chanting "놀자 (Nol-Ja)" and "we want more," to bring the Korean girl group back on stage.
The LED background lit up once again, fans loudly screamed for an "encore!" Smoke started to fill the sides of the stage while everyone could hear the melody of "Lonely" being played.
ADVERTISEMENT - CONTINUE READING BELOW
During the encore, Sandara entertained the crowd by performing her hit song, "In or Out," that became popular in the Philippines 10 years ago. The Pambansang Krung-Krung even made the signature dance moves with her fellow members. Although CL complained about not knowing the dance, Dara wittily answered, "You were in the restroom." The two then promised to dance it again after Dara teaches CL the moves.
Aside from the famous hit, Dara also taught the 2NE1 members the steps to Vice Ganda's novelty song "Boom Panes!" Although CL first refused to sing it, she eventually gave in but she sang "Boom Vaness," instead of Panes.
The girls concluded the night with their last song, "Can't Nobody."
5th anniversary with Filipino Blackjacks. On May 17 exactly five years ago, the K-pop group 2NE1 was first introduced to the public. They had the chance to spend it in the Philippines, which Sandara considers as her second home.

"Actually tonight is a very special night for us. Thank you, guys. It's our fifth anniversary, and we are very happy to spend it with you guys.
ADVERTISEMENT - CONTINUE READING BELOW
"I wish this was my hometown," CL told the crowd.

Minzy agreed by saying, "I wish this is my hometown too."

This concert also marked the first time that 2NE1's labelmate, Winner, was able to perform in the country.
The 2NE1 girls got different kinds of gifts from their fans who have dubbed themselves as Blackjacks. Minzy took home a Stitch stuffed toy, Bom was seen holding a Corn stuffed toy, while Dara wore different kind of headbands. The fans even surprised them with cakes!
"I'm really happy to celebrate our fifth anniversary in my second home, the Philippines. I'm happy to be here with 2NE1 and you guys, Blackjacks. Mahal ko kayo," Dara said cheerfully.
"I love you so much. I will never forget," gushed Park Bom.

Minzy shouted out: "Thank you for your support. Mahal kita."