If you were a teenage girl in the late 90's/early 2000s, you probably had a poster of Shane Filan with his boy band Westlife posted on your bedroom wall. You probably bought all their CDs and knew all their songs by heart. You were probably crushed when they disbanded in 2012.
Flash forward to 2014 and Shane Filan is still going strong and looking as handsome as ever. His first solo album, You & Me, was released in November 2013 under MCA Music. In celebration of the release of his debut solo album, Shane is embarking on a world tour that includes Manila as one of his stops.
The Irish boy band Westlife was formed in 1998 and released ten albums that sold 50 million copies in a span of 14 years. Aside from Shane, the popular boy band also had Nicky Byrne, Kian Egan, and Mark Feehily as members. In 2004, Brian McFadden quit the group that is best known for songs such as "Swear It Again," "Seasons In The Sun," "More Than Words," "Uptown Girl," and "Fool Again."
Shane held a press conference on June 8 at the EDSA Shangri-La Hotel to promote his album You & Me and to announce his concert on October 1 at World Trade Center.

He talked about his impressions of the Philippines and the Filipino people as well as his experiences as a solo artist.

Does he miss his Westlife bandmates?

"Of course! It's been two years since we split up as a band. As a band, we will always miss each other. We spent half of our life together," says Shane who tried out for Westlife when he was 18 years old. He was 32 when the band broke up in 2012.

"It's not easy coming out of a band like Westlife. People might think it's easier but it's actually harder. It's very hard but you have to get used to being on your own."

Was he scared about becoming a solo artist?

"Yeah, I had second, third and fourth thoughts," he quipped. "That was a very, very scary time. A lot of people asked me a few years ago if I wanted to go solo. [I said] I don't think I ever would.

"When the band ended, I had to…not that I didn't have any choice…but I had to. We didn't expect Westlife to end but we did and every good thing comes to an end.

"It was a very sad time and a very scary time for me straight out because financially, I was not in a good place. I had a young family and I was very worried. I was very scared.

"I think the best thing I ever did was to throw myself straight into making music. It took my mind off the worry.

"That was when I started writing songs and finding out who I am as a solo artist. I wanted to be like Westlife a bit but be something different as well. I was trying to create something fresh and new."



SHANE THE SONGWRITER. The ups and downs of his life have become his resources when it comes to writing songs. One of the lowest points of his life came when he filed for bankruptcy in June 2012 due to failed real estate investments. Those months were tough, but Shane bounced back.

How have your experiences influenced your music?

"When I started on the album and started to write songs, I wanted to write kind of happy positive songs because I wasn't happy," he says about the process of making his 13-track album.

"Some parts of my life were very, very sad. I try to focus on positive things. And when stuff like that happens, you realize what you do have which is your healthy children, happy marriage and stuff like that and that's very important to me.

"Money is not everything at all.

"You need enough to live. [Money] caused a lot of stress in my life and I'm glad I'm past that part of my life."

The then lead singer of Westlife was declared bankrupt with debts of £18 million (equivalent to P1.31 billion).

In his new album, Shane experiments with different musical styles. He has pop songs, a bit of country, a bit of folk, a bit of soft rock and even a hint of traditional Irish music. He reveals his favorite tracks in his album. "I love 'All You Need To Know.' It's a very personal song to me. I think 'About You' is a great song. It's a real radio-friendly song. 'Everything To Me,' my first single, that's always going to be special to me…"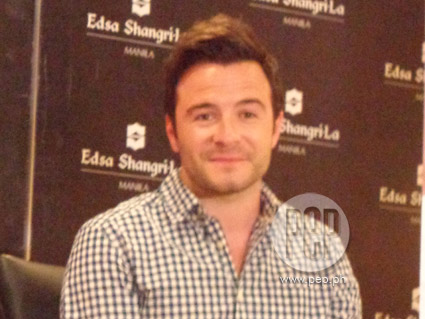 WEST MEETS EAST. Shane loves the Philippines. The former vocalist of Westlife said, "Last September I came to the Philippines. It was amazing. You go to all these countries and people come out to see you and hear what you want to say. They listen to you sing. It's an amazing feeling to be on the stage and to sing for people."
He thinks Pinoy fans are incredible. "I saw all the fans in the airport today. It was crazy. I didn't expect that at all," he admitted. "Over the years, we [Westlife] have come here a lot. I've had some amazing concerts here. Some amazing memories. So, it's great to be back..."
Shane was a solo artist when visited the Philippines in 2013 to perform in the culminating episode of The Voice of the Philippines.

"It was such an amazing thing. It was a huge TV show," he said about ABS-CBN's reality show. "It was probably the biggest TV show that I had done as a solo artist. I had a lot of fun singing 'Uptown Girl' and 'Fool Again.'"

When PEP.ph (Philippine Entertainment Portal) asked Shane about his impressions of Pinoy singers, he pointed out that he was impressed with finalist Klarisse de Guzman's voice.

"Klarisse is very good. Maybe I'll sing with her in the future, who knows…"

He was glad to know that Klarisse launched her own self-titled album, which is doing well.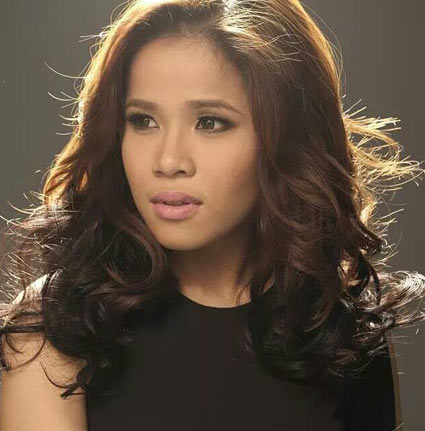 Is he open to collaborating with a Pinoy artist in the future?

"I haven't done a duet with this album and it's something that I would love to do. It's all about the right artist, the right song…I don't know who is the right person for me in the Philippines, but I would love to do that because I think it's a great thing to learn about other artists and other musicians."
Needless to say, Shane is impressed with Filipino singers. He observed that the Philippines is a very musical country. "Filipinos love love songs. You love big powerful ballads. I think that's why Westlife went down so well here. Maybe that's why I go down so well here. People love to sing great songs. I love to sing great songs and I think Filipino people are very similar."
Shane only stayed in the Philippines for two days, so he had little time to tour the country. When he goes back on October 1 for his concert at the World Trade Center, he hopes to see more attractions during his day off. "I want to play golf. That's the biggest tourist attraction I want to see! (laughs)

"'Cause I don't get to play golf as much as I would like and I love playing golf. I've said to myself in this tour I want to play in every major city I go to…I also love the beach. So yeah, I'll do that too."
Filipino audiences can expect a really fun and upbeat concert this October. Shane sings a lot of Westlife songs because they're a huge part of his history but he makes sure to put his own twist to the songs.

"I do obviously a lot of the Westlife songs. And they go down pretty well every night when I sing them. I've got a great band as well...So far the reaction has been amazing…I sing songs from You and Me the album, but I do songs from the Beegees, 'Blurred Lines' of Robin Thicke, the band can just play anything. If I get a request from the audience I can just sing…it's a really fun show…"
Shane is a consummate artist who loves performing on stage. According to Shane, "There's no better feeling so I just love it. Every day I wake up and I feel very lucky to be able to do this, and I want to be able to continue doing it…"
Presented by Midas Productions, Shane Filan's You and Me Tour Live in Manila on October 1, 2014 at The World Trade Center Manila.

Starting June 16, tickets can be purchased through SM Tickets (www.smtickets.com or call Tel. No. 470-2222); Ticketnet (www.ticketnet.com.ph or call Tel. No. 911-5555); and Ticketworld Online or call Ticketworld at Tel. No. 891-9999.