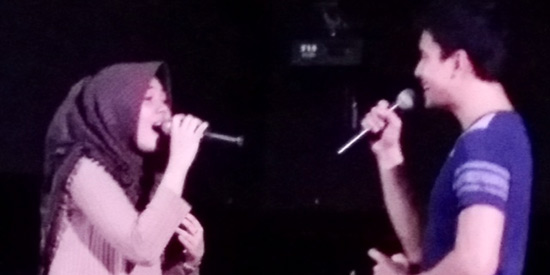 ---
Christian Bautista continues to be a popular international artist in Indonesia as he topbilled three consecutive successful major shows from August 23-26.
The Asia's Romantic Balladeer broke new grounds during the first concert (August 23) as he became the first international artist to perform in the city of Banjarmasin. The concert, held at the Dynasty Aria, was attended by Christian's platoon of Indonesian fans.
Last August 25, Christian performed at the Prive Club, atop the Harris Suites at the FX Sundirman Building in Jakarta. Christian shared a special duet of the Indonesian version of "Please Be Careful With My Heart" with special fan Fitri.
The following day, August 26, younger Indonesians, most of them were college students, were thrilled during Christian's concert in Queen Rose in Bandung, an area where some of the biggest universities are situated in. The highlight of the show was when Christian took off his neck tie and threw it to the audience, which made the crowd go wild.
Meanwhile, Christian is about to release his latest album under Universal Records in a few weeks. The album promises to make his fans fall in love over and over again with the Romantic Balladeer's soothing voice.