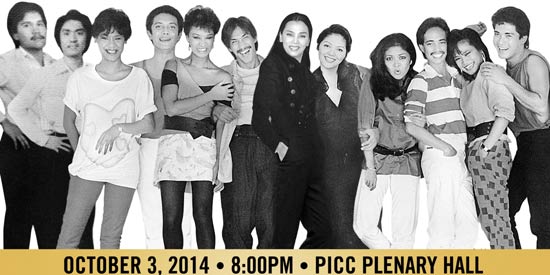 ---

Kuh Ledesma, Jet Montelibano, Fe de los Reyes-Mendoza, Eva Caparas-Benthall, Angeli Pangilinan-Valenciano, Vicky Sevilla-Pangilinan, Toto Gentica, Hector Pedero, Butch Elizalde, Nonoy Mendoza, Bobby Taylo, Jeannette Casuga-Trevias are performing onstage once again!

In 1979, Music & Magic changed the landscape of Manila's lounge entertainment. During their time, they were the most exciting show band in the Philippines and Asia. Music & Magic is also the band that catapulted the singing sensation Kuh Ledesma in the music industry.

It all started with original members Jet Montelibano and Toto Gentica who were then part of Bacolod-based musical group "Banda Lastiko." During his MassComm internship at La Salle Bacolod, Jet traveled to Manila with bandmate Toto Gentica and ended up forming the "Ensalada Band" with newcomer Kuh Ledesma who was just about to try her luck in Manila as a fresh nursing graduate from Bacolod.

The "Ensalada" performed regularly at Holiday Inn Hotel's El Camarote alternating with another band, Family Birth Control, whose drummer then was M&M member Nonoy Mendoza.

Soon after, Ensalada disbanded. Jet, Toto, Kuh and Nonoy got together to form a new group to be known as "Music & Magic." Nonoy introduced Butch Elizalde (lead guitar) and Hector Pedero (bass) to the group and auditions we held for three new female back-up vocalists which turned out to be Fe de los Reyes and Eva Caparas (from Ateneo University) and Angeli Pangilinan (from UP Diliman).

It didn't take very long for Music & Magic to become one of the most in-demand groups among the elite show bands at the time. They became regular performers at the Alibi Bar of the Regent of Manila, a prime watering hole frequented by society's crème de la crème. Their shows were jampacked solid each and every night. Not long after, the group started being introduced as "Music & Magic with Kuh Ledesma" until Kuh's career took off and she was launched as a solo performer.

In addition, the group also traveled extensively outside the Philippines and had extended stints in Singapore and Malaysia. Music & Magic has opened acts for international artists like Willie Bobo, Ramsey Lewis, Freddie Hubbard, Harvey Mason, and Stanley Clarke, among others.

They also toured the United States and Canada as special guests in Kuh's sold-out concerts including performances at the Shrine Auditorium in Los Angeles and Carnegie Hall in New York.

It's been 35 years since they made a big wave in the music industry and now they are back! Viva Live and Artist House proudly bring back Music & Magic featuring Kuh Ledesma, Angeli Pangilinan-Valenciano, Nonoy Mendoza, Jet Montelibano, Vicky Sevilla-Pangilinan, Jeannette Casuga-Trevias, Butch Elizalde, Fe de los Reyes-Mendoza, Eva Caparas-Benthall, Bobby Taylo, Hector Pedero and Toto Gentica.

If you were a regular at the Alibi bar of the Regent of Manila, Tavern on the Square in Greenbelt Makati, the Peppermint Park and Atlantis in Singapore, or the Pyramid Club in Kuala Lumpur Malaysia back in the '80s, re-live those years through these pages and share your memories.

Catch them this October 3 (Friday), 8:00 PM at the PICC Plenary Hall.

For ticket inquiries, you may visit Ticketworld Online or call Ticketworld at 891-9999, SM Tickets at Tel. No. 470-2222, Ticketnet at Tel. No. 911-5555, Viva Live at Tel. No. 687-7236, Artist House at Tel. No. 815-1953, or PICC at Tel. No. 789-4734.
ADVERTISEMENT - CONTINUE READING BELOW