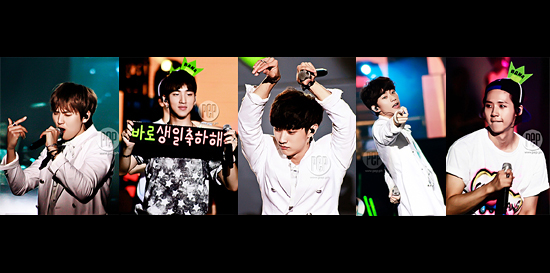 ---

Members of the K-pop group B1A4 complimented their Filipina fans for their beauty.


"When I say yeah, you say po. Yeppeo!" Baro energetically told the crowd gathered last September 6 at the Smart Araneta Coliseum.

"Yeah" plus "po" equals to "Yeppeo (예뻐)" meaning pretty in Korean. The heartthrobs explained that this is from their song "Yeppeo (예뻐)."


According to Jinyoung, they wrote this song for their fans who are collectively called BANAs. "We wrote the song with our fans in mind. I guess it's because all of our fans are so pretty."
The members of B1A4 also coyly confessed, "Manila BANAs are so pretty."
ROAD TRIP TO MANILA. B1A4 opened their concert titled Road Trip to Manila with their debut song "O.K." and their first single "Beautiful Target."


Both songs talk about falling in love at first sight. In "O.K.," the lyrics go: At first glance / Thеrе wаѕ a connection between уοu аnd I while "Beautiful Target" captures the giddy feeling with lyrics that go: It happened in an instant / I fell in love.


The boys danced as enthusiastically as they did when they were first formed as a group three years ago.
Wearing matching crisp all-white suits; Jinyoung, CNU, Baro, Sandeul, and Gongchan captivated their Manila audience with their smooth vocals while singing a slower version of "Tried To Walk."
Main vocalist Sandeul also gained squeals and applauses with his seamless high notes.
Meanwhile, leader Jinyoung showcased his guitar playing skills while performing an acoustic version of Guns and Roses' "Knocking on Heaven's Door." The other members then joined him as they sang the unplugged remix of "Wonderful Tonight."
The group also performed their award-winning and chart-topping songs such as "What's Happening?" the track that earned them their first win "Lonely," and their latest song "Solo Day."
ADVERTISEMENT - CONTINUE READING BELOW
The crowd sang along with them while chanting their names out loud. Not long after, the singing turned into screams as fans were completely charmed by this talented bunch. And all they could say in the end was Saranghae (사랑해,) meaning I love you.
B1A4 also performed songs from their albums, namely "I Won't Do Bad Things," "Oh My God," "Because of You," "Seoul," "This Time is Over," "Amazing," and "A Glass of Water."
During breaks, behind the scenes footage were shown on the big screen. Fans were able to get a glimpse of the boys while rehearsing and being playful during their leisure time. There were backstage recordings as well as video clips of the boys learning Tagalog words.

The members of B1A4 easily mastered saying "Kamusta po kayo?" but mumbled through "Ikinagagalak ko po kayo makilala." Video clips also showed the members singing "Happy Birthday" to Baro who celebrated his 22nd birthday last September 5, a day before the concert at the Big Dome.
One of the highlights of the evening was when B1A4 finally performed their well-known "sprout dance!"
GOOD NIGHT. Since this is their first time to visit the Philippines for their world tour, the members of B1A4 expressed their delight in meeting their overseas fans.
The boys repeatedly said "I love you Manila!" and "I love you BANA!" to show affection for their lovable Filipino "sprouts."
It was also a visual treat to see young girls wearing sprout-like headbands while holding up "pastel apple lime" glowsticks, almost making the Big Dome look like a green garden.
One lucky BANA even had the chance to be serenaded by the South Korean boy band after she received a call from Sandeul.


Jinyoung held her hand to lead her to the center of the stage. The boys of B1A4 sang "Chu" for her onstage as Baro sat on her lap. CNU kissed her hand, Gongchan patted her head, and Sandeul finally gave her a bear stuff toy to keep.
ADVERTISEMENT - CONTINUE READING BELOW
The boys really didn't hold back in giving thrills to their fans! BANAs seated at the SVIP area had a chance to get close to the members since they went down to take selcas (self-camera or selfies) with the fans. They even brought their own Polaroid cameras to take memorable photographs of their Manila concert.
The members of the K-pop group received small trinkets including headbands and banners. In one instance, Baro even held up one banner translating to "Happy Birthday Baro!"
The youngest Gongchan makes cute heart signs while his hyungs (older brothers) were all scattered on stage, running from one place to another, while mingling with their fans.
The eldest CNU even started playing with the yellow streamers that fell on stage.
As they performed their final songs for the night, "Good Night," "In the Air," and "If," B1A4 sincerely thanked their fans for coming out to see them that night.
Jinyoung gushed, "This is our first time in the Philippines, we had a great time, we made eye contact with our fans, and we got to have fun with you.
"We are very, very happy. We hope you guys had a good time, and you guys were so passionate today. Thank you so much to our fans in Manila.
"Manila is the best!"
Sandeul shouted on the top of his lungs, "Please remember B1A4!"
The boys ended the "beautiful night" with bows to show their gratitude to fans who watched them perform that night.
It was indeed a beautiful night to remember for BANAs who have been waiting for their idols since 2011.


Baro ended with a flourish, "When I say good, you say night. Good night!"