---
Folks, Alice in Wonderland isn't just for kids anymore.

A fantasy world filled with card soldiers and even a Mad Hatter came to life during Bazooka Rocks III, dubbed as the first and largest indoor music festival in the Philippines.

The two-day music fest offered an impressive roster of foreign main acts supported by an equally impressive list of Filipino bands.

Bands such as The Used, Taking Back Sunday, and Saves The Day were among the foreign acts that entertained the jampacked crowd last August 30-31 at the SMX Convention Center.
This year's theme was a grim take on the fantasy world of Alice in Wonderland. People had a blast taking photos in a booth complete with a Mad Hatter enjoying a tea party. There were also several midgets holding spears while donning card soldier costumes. There was another booth where revelers could have their faces painted with glow in the dark paint.
ADVERTISEMENT - CONTINUE READING BELOW
On the first day of the music fest, Saves The Day took the stage at 6:30 PM and kicked off their set with their song "At Your Funeral," drawing people to gather in front of the stage.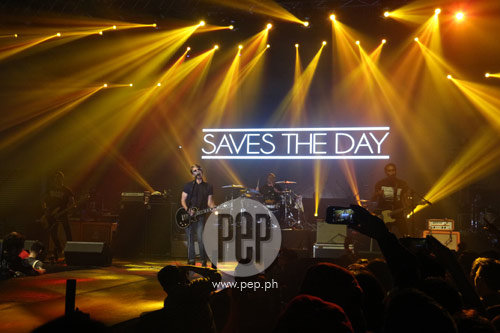 Saves The Day


The band went throught their set with very minimal interaction with the crowd playing song after song and ended with the 2007 song "Get Fucked Up."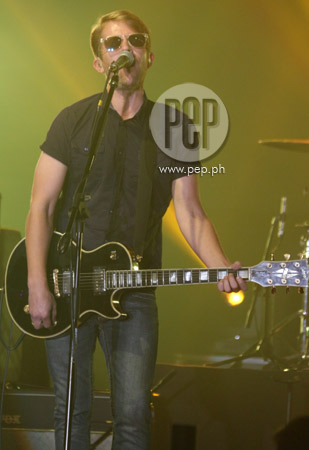 Saves The Day



ADVERTISEMENT - CONTINUE READING BELOW
TAKING BACK SUNDAY.
With anticipation building up, a huge roar from the crowd erupted as Taking Back Sunday (TBS) emerged onstage and started their set at 8 pm with their song "Stood A Chance."


TBS main man Adam Lazarra's signature antics with the microphone caught everyone's attention as the singer would throw his mic high up in the air, hold it by the cord and spin it in his hands midway through his songs.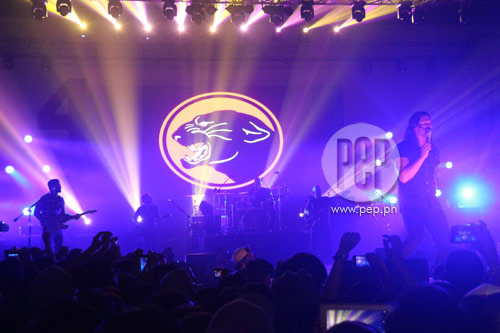 Taking Back Sunday


They performed "Liar" and "You Know How I Do" before addressing the crowd.
ADVERTISEMENT - CONTINUE READING BELOW
"We are a long way from home mama, a long way from home! Thank you for making us feel so welcome" said Adam Lazarra as he thanked the crowd for coming to the concert.
The band then performed "Beat Up Cars," "Timberwolves At New Jersey," and "Faith" as Adam interacted with the crowd once more.
"Thank you guys, you guys are great! That's the truth right there... Have you had a good day so far? You guys got me all nervous, I should've worn a nicer shirt," quipped the lead singer.
"We were at a different mall yesterday and we did a signing there. There was a fine young gentleman who asked if would to play a certain song, we haven't practiced it in a very long time but we figured we can't let this wait, we're gonna play it," Adam narrated before the band began to play "Bonus Mosh Part 2."

This was followed by "Number 5 With a Bullet" and "A Decade Under The Influence."

Adam took the time to reminisce and express his gratitude when he recalled: "This next song we're gonna play is from our second album... right before we put that record out, I called Chris Conley of Saves The Day nearly four times a week because I was scared that nobody would like it and I wanted him to console me and he did so thank you very much Chris, I'll never forget that."

As part of their set, TBS performed "Set Phasers to Stun", "You're So Last Summer" and "One Eighty By Summer."
ADVERTISEMENT - CONTINUE READING BELOW
"The thing about this next song is that someone come up to me saying, 'Hey, my friend had this song played during their wedding, could you play it?' My first reaction was 'Ahh, hell no' because there was too much pressure. But then we where thinking about it and we figured why the hell not so here you go, whoever said that to me earlier," said Adam as a way of introducing the song titled "My Blue Heaven."

The American rock band quickly followed this up with "Flicker Flade" and "Cute Without The E".
Towards the end of their set, Adam asked the crowd: "Who here is 18 years old and over?"
"We've got the beer and we're willing to pay for it. One beer for 18 plus, if you don't have a beer we'll pay for it. Is that cool with everybody?"

An announcement was then flashed onscreen that they would be giving out free beer for festivalgoers. In response, the crowd roared in delight as everyone queued up to get one.
ADVERTISEMENT - CONTINUE READING BELOW
Taking Back Sunday ended their set with a bang as everyone was drinking their free beer and singing along to their last song for the night "Make Damn Sure."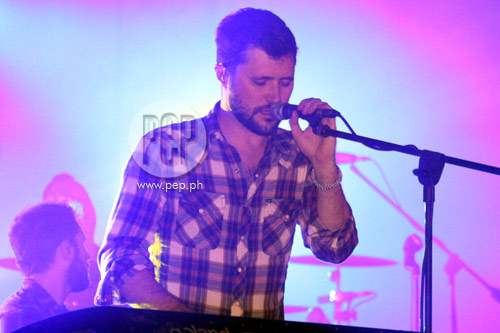 The first day of the music festival ended with The Used taking the last set at 10 PM in the evening.

To enliven the crowd, Bert McCracken prompted the crowd to clap along with him at the beginning of the song "The Taste of Ink."

Other upbeat songs performed that night were "Buried Myself Alive" and "The Best Of Me."

In one of his spiels, Bert told everyone: "As music fans, it is our duty to stick up for those who are unable to stick for themselves. I'd like to challenge you today to question authority at all times."

His statement was met with wild cheers.

"We must always demand proof of said authority from said authorities. There are a few good songs about that," he said as he encouraged the crowd to put their fists up in the air before they performed "Revolution."

The set list mellowed down a bit when The Used opted to perform "On My Own" with a simple acoustic guitar.

All in all, nine international bands and eight Pinoy bands provided Bazooka Rocks 3 festivalgoers with an epic, unforgettable weekend.


ADVERTISEMENT - CONTINUE READING BELOW