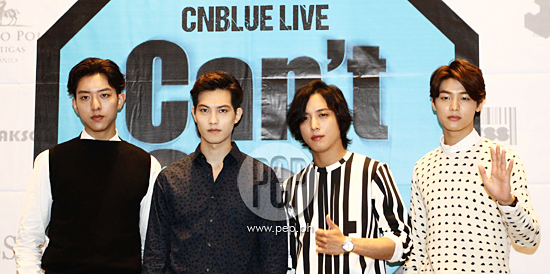 ---
Only a few hours after stepping foot in the Philippines, the members of CNBLUE hope to visit the country again after they complete their 2014 CNBLUE LIVE Can't Stop in Manila concert tonight, September 19, at the Smart Araneta Coliseum.
Vocalist Jung Yonghwa, lead guitarist Lee Jonghyun, bassist Lee Jungshin, and drummer Kang Minhyuk, also visited the country last year, June 15, for their Blue Moon World Tour at the Big Dome. The members once again dropped hints about going back to the Philippines after completing their next album.
Through a translator, the members of CNBLUE declared, "Hoping to visit you again next year with a new album," during their press conference at Marco Polo Hotel last September 18.
Currently promoting their Can't Stop mini-album containing the songs "Can't Stop," "Diamond Girl," "Cold Love," "Sleepless Night," "Love is...," and "Like A Child," the boys earnestly announced that their new album is already "in the works."
ADVERTISEMENT - CONTINUE READING BELOW
MUSIC AND LYRICS. The members have all ventured into acting, guested in variety shows, and even help during their songs' production. But despite being well-rounded artists, making music while keeping a close relationship with their fans will always be their top priority.
"The best thing about being in a band is that you can be flexible with time when it comes to communicating with the fans," the translator sums up what CNBLUE thinks the perks of being "rockstar" is.
The members also confessed that "up to now they are dreaming to become a rockstar." Humbly stating that, "anyone in a band would dream to become a rockstar."
CNBLUE members candidly revealed some of their favourite tracks from all their albums. Jungshin admits that he loves all their songs but is now "especially more fond of their Can't Stop album."
Minhyuk also confess that he often replays songs from their latest album, but "he [particularly] finds the song 'Lady' very interesting."
ADVERTISEMENT - CONTINUE READING BELOW
Yonghwa chooses "I'm Sorry," a song that he co-composed with Han Sungho and Han Sunghoon. And as for Jonghyun, their debut song "I'm a Loner" will always hold a special place in his heart.
The boys also expressed their wish to collaborate with different musicians. Minhyuk thinks "it would be fun to perform together with [Korean indie rock band] NELL."
Jungshin aspires to work with American singer-songwriter and record producer Jon Bon Jovi, the SBS' Temptation actor says he "will be honoured to be able to perform with him."
"These days he [Yonghwa] is interested in hip-hop," says the translator. The Heartstrings and You're Beautiful actor also wants to perform again with Dok2, who is also Nicole Scherzinger's Korean-Filipino-Spanish cousin, if given a chance.
Jonghyun picked another hip-hop artist, Yang Donggeun or "YDG" as someone he wants to work with in the future.
BEE HAPPY. Visiting the Philippines for the second time around, the members didn't hold back on their fascination with the Filipino fast food chain, Jollibee!
ADVERTISEMENT - CONTINUE READING BELOW
Twenty-five-year-old Yonghwa excitedly says that he's "looking forward to try it [food from the fast food chain] later for dinner." While 23-year-old Minhyuk adds that "after visiting Jollibee" he also wants to "visit a big aquarium here," he said about Manila Ocean Park.
Meanwhile, Jonghyun reveals that aside from eating food from Jollibee and seeing fishes in aquariums, he would also like to "visit a very popular diving point here in Manila."
MAHAL KITA. The boys also showed off their Tagalog skills by randomly blurting out sweet words and sentences.
"Yeah, I'm very mahal kita!" Yonghwa says in a very hipster-like tone. Jungshin also shyly confesses "mahal kita," while both Minhyuk and Jonghyun smiled while saying "Salamat!"
The boys were all eager to meet their fans again. Minhyuk is said to be "hoping that everyone will enjoy it [the concert] from the beginning till end."
CNBLUE leader Yonghwa invites Filipino Boices [what theyir fans are called] out there, "To please come to the concert tomorrow, and let's have some great fun together, and have Jollibee for dinner tonight, and hope we have a great day."


ADVERTISEMENT - CONTINUE READING BELOW
Brought to you by All Access Productions and FNC Entertainment, CNBLUE LIVE Can't Stop in Manila will happen this September 19 at the Smart Araneta Coliseum.
For ticket inquiries, you can contact Ticketnet at Tel. No. 911-5555 or visit their website at www.ticketnet.com.ph for online reservation.