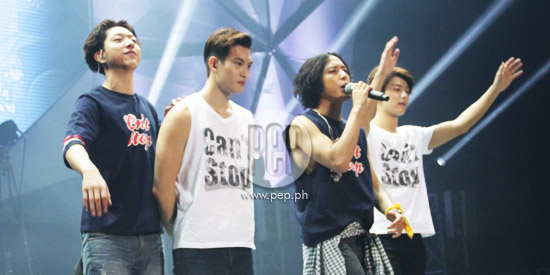 ---

Filipino BOICEs braved the rains and floods just to see CNBLUE perform live at the Smart Araneta Coliseum. The four-member pop-rock band from South Korea pushed through with their one-night-only concert in Manila last Friday night, September 19, as tropical storm Mario raged across the country.
Members of CNBLUE—Jung Yong-hwa (lead vocals, rhythm guitar), Lee Jung-shin (bass guitar, vocals), Lee Jong-hyun (lead guitar, vocals), and Kang Min-hyuk (drums, vocals)—made sure to give their Filipino fans (BOICEs) an awesome show despite the stormy weather that night.
Ear-deafening screams from Filipino BOICEs filled the concert venue as the band made their entrance clad in casual clothes that exuded rock star auras.
CNBLUE kicked off their second concert in Manila with the song "Time Is Over" followed by "Diamond Girl," and "Intuition."
Video by: Nikko Tuazon
After a few songs, the members greeted the fans and said, "Magandang gabi! Kami ang CNBLUE!"
ADVERTISEMENT - CONTINUE READING BELOW
"It's good to see you again!"
The members introduced themselves before the audience in Filipino starting with Jung Shing, "Kamusta ka? Kamusta Manila? Ako ay Jungshin!"
Jong Hyun followed him and said, "Kamusta? Ako ay Jonghyun! Maraming salamat sa inyong lahat!"
Min Hyuk memorized another sentence in Filipino to thank their fans who went out of their way to see them perform live amidst the heavy rains and floods. The drummer said, "Kamusta? Ako Min Hyuk.
"Salamat sa pagpunta niyo dito kahit may bagyo."
Screams filled the concert venue when Yong Hwa introduced himsef by saying, "Kamusta? Ako Yong Hwa! Mami-miss ko kayong lahat! Mami-miss ko kayong lahat!"
After their introduction, the band continued with their performance of "LOVE."
Video by: Nikko Tuazon
The K-pop group toned it down a bit with their performances of "These Days," "My Miracle," "Blind Love," and "독한 사랑 (Cold Love)." The band also performed "Robot," " In My Head," "Greedy Man (acoustic intro)," " 잠못드는밤 (Sleepless Night)," and "Let Me Know."
ADVERTISEMENT - CONTINUE READING BELOW
More popular songs in their setlist included "외톨이야(I'm A Loner)," " Coffee Shop," "I'm Sorry," "Lady," "Try Again, Smile Again," and "Can't Stop." The band ended their concert with "아이의 노래 (Like a Child)."
Members of CNBLUE, most especially Yong Hwa, were energetic as they performed over 20 songs in two hours for their Filipino fans.
CNBLUE returned on stage for encore performances of "Wake Up," "Love Girl" and "Love Light."
Yong Hwa, Jong Hyun, and Min Hyuk surprised the youngest member Jung Shin who celebrated his 23rd birthday last September 15. The fans brought different colored ballons and sang the happy birthday song in Korean for Jung Shin.


Jung Shin thanked his fans in Korean for celebrating his special day with him even days after his real birthday (September 15). Last year, Yong Hwa celebrated his birthday with his Filipino fans during their Blue Moon tour in Manila.
ADVERTISEMENT - CONTINUE READING BELOW
Photo: Jong Hyun, Yong Hwa, and Min Hyuk surprised Jung Shin with a blue cake for his 23rd birthday celebration with their Filipino fans.
Towards the end of the concert, Yong Hwa expressed his gratitude for their fans who made it to their concert despite the bad weather. The lead singer also promised to come back and meet their fans again.
Yonghwa said, "This has been a good concert here in Manila with all of you, even if the weather is bad. I pray for you.
"We will come back here, I promise you.
"Very, very mahal kita. Very, very salamat po."