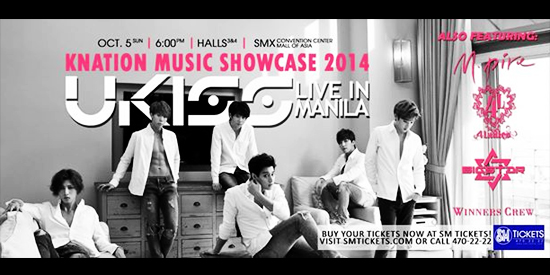 ---

The boys of UKISS are "all grown-up!"


Debuting their song "Not Young," Soohyun, Kiseop, Eli, AJ, Hoon, Kevin, and newest member Jun are now back with their latest risqué single titled "Mono Scandal."


On October 5, their fans dubbed as KISS MEs will be able to see them again as they perform live for KNATION Music Showcase 2014 at the SMX Convention Center, Mall of Asia.
The K-pop group gained immense popularity in the Philippines back in 2010 with their songs "Bingeul Bingeul (Round and Round)" and "Man Man Ha Ni (Am I That Easy?)" with the former featuring lyrics about wanting a lover back, and the latter ultimately pushing her away.
Their "push and pull" tracks and easy to follow "dance point," in which they move their bodies in a circular motion, quickly became a hit among Filipinos.
Now four years after they first promoted their record-breaking album Only One in the Philippines and selling more than 1000 CDs during their three-day mall tour, the group will be making their fifth visit to the country.
The band from South Korea first staged its solo concert titled U-KISS First Kiss Tour in Manila at the Big Dome in June 2010 after receiving a warm welcome during their mall shows.
The all-male group also opened for international superstar Rain during his Rain Intensity Concert dated September 11, 2010. And just last year, January 19, the boys together with Girl's Generation, EXO, Infinite, Tasty, and Tahiti took part in the first Dream KPOP Fantasy Concert at the SM Mall of Asia Concert Grounds.

Their fifth visit takes place on October 5 (Sunday) for KNATION Music Showcase 2014 at the SMX Convention Center.
KNATION is an annual K-pop event where fangirls and fanboys alike gather in one venue to spazz, rant, and spazz some more.
There are fanclub booths, games and contests, dance showdowns and performances, and even guest Korean celebrities present, making it one of the most awaited events for Pinoy K-pop fans.
ADVERTISEMENT - CONTINUE READING BELOW
In fact, last year, former UKISS member Alexander "Xander" Lee Eusebio graced the event to celebrate with his "bebots" [the term used for his Pinoy fans]. The name was coined after Xander performed American-Filipino singer Apl.de.ap's song during UKISS' Manila concert back in 2010.
This 2014, UKISS (along with their new members) will join M.Pire, 4L, BIGSTAR, and the Winners Crew for another grand celebration at KNATION. This will also mark UKISS' maknae (youngest) Jun's first time to visit Manila since he joined the group just last May.
VVIP and VIP ticket holders will also have a chance to get up-close and personal with their idols. With photo-ops, meet and greet sessions, a hi-touch event, and a dinner date up for grabs, what more can a fan ask for?
For more information, call Tel. No. 470-2222. Tickets are available at all SM TICKETS in SM Cinema branches nationwide. You can also visit KPOP and Culture Fest for more promo details and updates.