"Manila, I wanna be the best you'll ever have," said John Legend at the start of his All of Me concert tour last night, September 26, at the Smart Araneta Coliseum in Quezon City.
The American singer-songwriter added, "I'm glad I'm back. It's been five years. I missed you."
John first visited the Philippines in 2009 for his Revolver Tour.
Offering a mix of soul, ballad, and gospel music, the Grammy award-winning singer easily touched the hearts of his Filipino fans.
The American singer-songwriter first set the mood with his songs "Tonight" and "Made to Love."
Then, he brought back the audience to the early years of his career as a musician by narrating how he started.
While playing piano, the 35-year-old balladeer said, "I had a dream to be exactly where I am right now. But sometimes dreams take detours because I had corporate jobs."
John continued to pursue this dream even while working in the corporate world.
He recalled, "At night, I'd work on studio and work on new music. I would record demo and play gigs around New York.
"One of my gigs was at a place called Living Room. I think that was my first gig in New York and there were about three people there, well, five if you count the bartenders.
"But you got to start somewhere."
The "Ordinary People" singer did not lose his passion for music despite getting rejected by many record companies.
"I tried for several years to get a record deal. I first started when I was in school.
"I played on the Miseducation of Lauryn Hill, in the song called 'Everything is everything.' That was me on the piano. So that was my first break, and I thought it would lead to a lot of big breaks.
"But, you know, I didn't get a record deal in 1998. I didn't get a record deal in 1999, not in 2000, not in 2001 either, not in 2002, not in 2003.
"Actually, I was turned down by many major record labels, including the one I'm signed to now."
He even jested, "Everybody makes mistakes."
Perseverance led John to fellow artist, Kanye West, who owns the production company called Good Music.
"He started to feature me in a bunch of songs with other artists," John remembered.
Then, still playing the piano, he reminded audiences about his collaborative work with other singers.
"He featured me in a Jay-Z song, and I said, 'What the hell are you waiting for?' Yeah, that was me [in 'Encore', 2003]
"He put me in a song with Slum Village, 'I'm calling out to y'all my ladies out there...' Yeah, that was me, too [in 'Selfish', 2004].
"He brought me to a lady who plays piano, just like me, who was Alicia Keys. He said, 'Alicia, you gotta have my friend, John Legend, sing backup vocals in this song.'
"She was like, 'Who the hell is John Legend?'
"Well, she let me sing anyway and did this, 'Oooohhh, oh, ooooh ohh...' Yes, Manila, that was me, too [in 'You Don't Know My Name' 2003]."
"I finally got a record deal in 2004 and it turned out into an album called Get Lifted.
"You remember that album? Are your ready to get lifted tonight, Manila?"
MORE MUSIC AND ENTERTAINMENT. John Legend continued entertaining concertgoers with his original hit songs including "Used to Love U," "Refuge," "Save the Night," "P.D.A," "Green Light," "Caught Up," and "So High." He also impressed the crowd with his acoustic version of "Save Room."
These songs made the night even more romantic for celebrity couples that PEP.ph spotted during the concert. These include Sarah Geronimo & Matteo Guidicelli, Angel Locsin & Luis Manzano, Maja Salvador & Gerald Anderson, Sarah Lahbati & Richard Gutierrez, Bela Padilla & Neil Arce, as well as Robi & Gretchen Ho.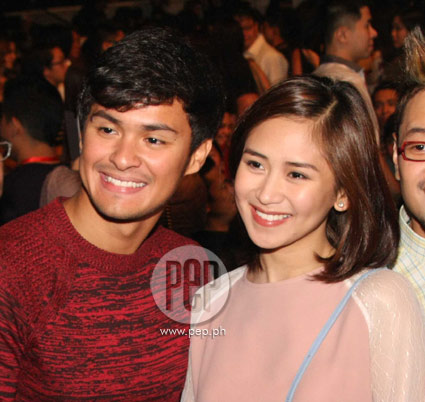 Matteo Guidicelli and Sarah Geronimo



John Legend also made audiences dance with him when he gave his rendition of Michael Jackson's classic song "Rock With You."
After that, he did a subdued performance of American music duo Simon and Garfunkel's popular song, "Bridge Over Troubled Water." John dedicated this song to his grandmother who influenced him to play gospel songs.
He also took this opportunity to introduce his new single "You and I" and show Pinoys its music video.
John beautifully ended his one-night-only concert in Manila by singing his current hit song in the country, "All of Me." The audience sang along with John Legend, making the concert arguably the best that Manila has ever had.